PRINCE FREDERICK, Md. (June 29, 2011)—Police in Calvert County released the following incident and arrest reports.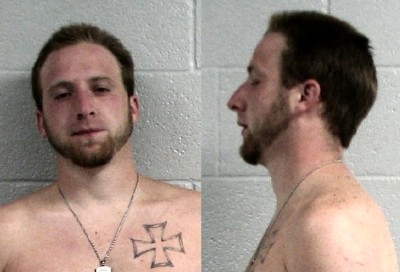 Police subdued Kristopher Hines, 23, of Dunkirk, using a chemical gas and a taser gun after they say he threatened officers who were at his residence to arrest him on three warrants. (Arrest photos)
WARRANT SERVICE ENDS WITH VIOLENCE: While attempting to serve a warrant on Kristopher Hines, 23, of Dunkirk, at a trailer on Regent Court on June 27 at 8:49 p.m., police encountered a barricade situation with Hines. Hines advised deputies that someone is going to get hurt if they try to come inside and arrest him. Special Operations Team members responded and were able to take Hines from inside the home with the use of a chemical gas and a taser gun. Hines was treated on the scene by medics. Deputies were originally attempting to serve Hines with three warrants for failing to appear for prior court cases for charges of malicious destruction of property, driving while impaired, and dangerous weapon possession. No one was injured.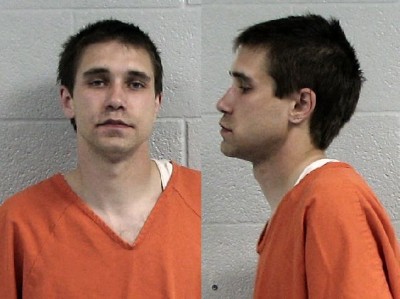 Daniel P. Coulson, 25 of Huntingtown, was indicted on ten charges ranging from burglary and theft to malicious destruction of property on June 20. (Arrest photos)
MAN CHARGED WITH MULTIPLE AREA BURGLARIES: In early April 2011, investigators with the Calvert Investigative Team (CIT) identified a group of residential burglaries in the Huntingtown area which appeared to be related. The culprit(s) would gain entry by breaking out an exterior window or door. Once inside, the suspect(s) would take jewelry, cash, small electronics, and similar sensitive or expensive items. The average theft loss for each burglary was estimated at $2,500 to $3,000. The first burglary occurred on March 26 at a residence located on MD Rt. 2-4 in Huntingtown. Some of the approximately ten related burglaries were reported on March 29th off of Huntingtown Road; April 3rd near Hillside Drive; April 16th off of Cox Road; April 20th and 23rd off of Plum Point Road; and April 24th off of Cox Road again. All of these victims reside in Huntingtown. A lead developed in early April. A white male was seen leaving the area in a burgundy colored sedan. Det. J. Ewig and Det. H. Rich worked these cases and leads developed which identified Daniel P. Coulson, 25 of Huntingtown, as possibly being involved. Investigation confirmed that Coulson drove a burgundy 2010 Dodge Caliber and still lived in the Huntingtown area. Further investigation confirmed that Coulson sold or pawned numerous pieces of jewelry which were unique. Many of these pieces of jewelry were positively identified as stolen from some of the victim's houses noted above. On April 28 search and seizure warrants and an arrest warrant were served at Coulson's residence. This yielded additional stolen property from many of the related burglaries. Coulson was subsequently interviewed at the Calvert County Sheriff's Office. Coulson provided a detailed statement and identified each of the residences he entered, how he entered them and what he stole from each residence. Coulson was indicted on ten charges ranging from burglary and theft to malicious destruction of property on June 20 in Calvert County Circuit Court.