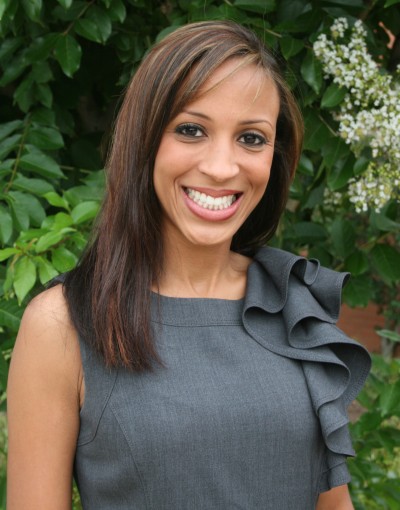 Melissa Williams, vice principal of Malcolm Elementary School. Williams is the 2011 Charles County Public Schools Vice Principal of the Year. (Submitted photo)
LA PLATA, Md. (June 29, 2011)—Melissa Williams, vice principal at Malcolm Elementary School, is the 2011 Charles County Public Schools Vice Principal of the Year. Williams, who has been with the school system since 2007, said she was elated and honored to learn she received the county honor as vice principal of the year.
"This honor is a snapshot of the teamwork present each day at our school. At Malcolm, we do make a difference in the lives of our students and through them I believe we are making the world a better place. When I think of the number of outstanding administrators in this school district, I am genuinely overwhelmed. This honor is truly one of the most important milestones in my life and today serves as a reminder that my purpose as an educator is being fulfilled," Williams said.
She was nominated for the award by Malcolm's principal, Wilhelmina Pugh, for her natural leadership skills and professionalism, knowledge of educational trends and practices, expertise in instruction and ability to communicate and resolve issues in a positive way.
"Ms. Williams has brought my vision of leadership to fruition. She knows the names of all the students, their parents, grandparents and talks with them about their interests in and out of school. Parents and teachers feel confident that they can come to either one of us and their issues will be resolved quickly and efficiently. Together, we have created a nurturing environment with high expectations for academic achievement and personal responsibility," Pugh wrote in a nomination letter.
Malcolm staff agrees that Williams is a natural leader and demonstrates a strong commitment to student success, and academic and personal growth. In an award nomination letter from the pre-kindergarten and kindergarten teams, teachers say that Williams has great interpersonal skills that create a positive and safe environment throughout the school. According to the letter, "Williams always warmly greets students with respect and fairness. Teachers appreciate her specific feedback tailored to individual teaching styles and she takes initiatives to complete any task, always noting the strengths of others."
The first-grade team at Malcolm wrote a joint letter to support Williams' nomination. Teachers Michele Brucculeiri, Lindsey Cowan, Michelle Long and Lisa Davis have worked with Williams for the past four school years and said her positive demeanor provides a wonderful environment for students to learn and staff to work. According to their letter, Williams "is a dynamic vice principal. She works hard to infuse technology in her various tasks in order to better our school community. She has the ability to see the positive in any situation. No matter how many demands are put on her, she does it with a positive attitude."
Malcolm parents and students also wrote letters of support for Williams' that highlight her professionalism, friendly personality and commitment to ensuring students succeed. Parent Steven Roberts said Williams' leadership, dedication and promotion of student success is evident in all that she does. Roberts, who recently traveled to Tennessee with a group of Malcolm students to compete in the global Destination Imagination tournament, said Williams proudly volunteered to oversee all Charles County Public Schools students in attendance and supported all teams. "Her actions there were above and beyond the call of duty and she deserves recognition for going the extra mile. Her demeanor serves as a role model for students and parents and helps mold the culture of Malcolm," Roberts wrote.
Malcolm third-grader Summer Taylor said she looks forward to coming to school each day because Williams makes school fun and exciting. "I think Ms. Williams should earn the award because she knows all of the kids' names at Malcolm. The best thing about her is that she helps with fun events at the school that all of us enjoy," Taylor wrote. Dominic Walker, also a third -grader at Malcolm, said Williams is always friendly, helps students and gets her job done with a smile.
In addition to her role as vice principal, Williams is an active part of the student support and instructional leadership teams and works closely with the Parent Teacher Association (PTA). She recently helped the PTA organize fundraisers such as the winter dinner and tree auction, ice cream socials and Chuck-E-Cheese nights. She also supports extracurricular activities by regularly attending competitions and award ceremonies such as Destination Imagination tournaments and the Mathematics, Engineering and Science Achievement (MESA) competition.
Williams began her career with Charles County Public Schools 2007 as vice principal at Malcolm. She received both her bachelor's and master's degrees from the University of South Carolina and has an educational specialist degree from George Washington University. Williams was honored by the Board of Education on June 14. The Board honors one outstanding vice principal each year.
Source: Charles County Public Schools