Also, Sousa, 1812 Overture, and Fireworks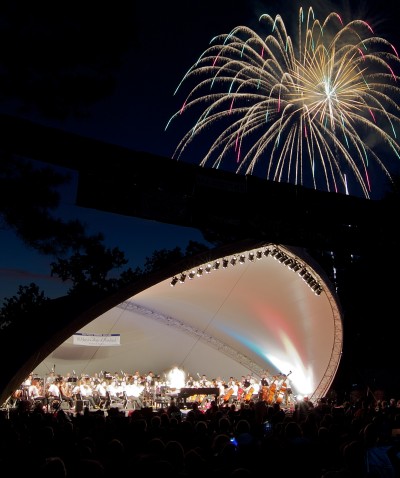 Fireworks explode over the music pavilion at last year's Fourth of July celebration. (Submitted photo)
ST. MARY'S CITY, Md. (June 27, 2011) — Naval aviation's 100th anniversary will be saluted at the July 1 River Concert at St. Mary's College of Maryland when the Chesapeake Orchestra, directed by Jeffrey Silberschlag, performs excerpts from "Air Power Suite" and "Those Magnificent Men in Their Flying Machines." To celebrate Independence Day weekend, hear "Thomas Jefferson: In His Own Words," patriotic music by Sousa, and the 1812 Overture by Tchaikovsky; and stay for a fireworks extravaganza.
The weekly celebrations on the college's Townhouse Green continue every Friday through July 29 with world-class music and a variety of food from local vendors. Gates open at 5 p.m. and concerts start at 7 p.m. These outdoor concerts are free and open to the public, and picnic baskets are welcome.
For more information, visit the River Concert Series' Web site at
www.riverconcertseries.org
.
Also during the holiday weekend, there will be an "Old Fashioned Fourth of July at Sotterley" by the Chesapeake Orchestra Brass Quintet at 1 p.m. July 3, at Sotterley Plantation. Additionally, St. Mary's College's Don Stapleson on saxophone, accompanied by vocals and guitar, will have a holiday jazz evening at 6 p.m. July 3 at Morris Point Seafood Restaurant in Abell. For more information, visit
www.riverconcertseries.org/2011_plus.html.