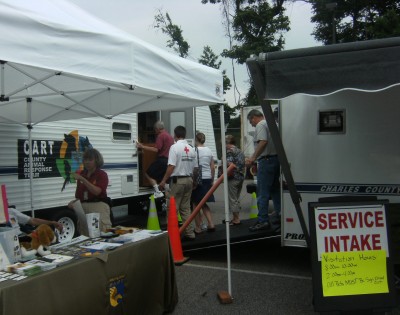 Members of The Charles County Animal Response Team (CART) conduct mock intake and pet sheltering activities as part of a national Red Cross exercise on June 12 in Baltimore. (Photo: Charles County Government)
LA PLATA, Md. (June 24, 2011)—On Saturday, June 12, members of Charles County's Animal Response Team (CART) deployed equipment to provide "mock" pet sheltering at an American Red Cross (ARC) regional disaster exercise held at the ARC central Maryland headquarters in Baltimore.
To demonstrate how the animal sheltering process works, CART members conducted "mock" intakes and reclamations using stuffed animals. There were no live animals used in the exercise. CART members provided a guided tour to more than 120 people, in addition to the people staffing other stops on the tour.
The exercise's coordinator, Kevin Burr, who is the director of Emergency Services for the American Red Cross of Central Maryland, told the Mayor of Baltimore, "If I had to go into a shelter, I would want to stay in Charles County's pet shelter."
CART volunteers demonstrated the intake process and housing capabilities that they have developed over the last two years.
"I can honestly say that I would deploy our CART members anywhere they are needed with confidence, and know that they will set the standard!" said Charles County Animal Control Services Chief Edward Tucker, after attending the exercise. Tucker is an experienced disaster responder with numerous deployments across the U.S. and Mexico.
This exercise is part of the ARC National East Coast Sheltering Exercise taking place from Virginia to Maine during the month of June.