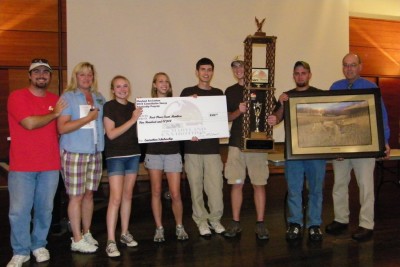 (Left to Right) Guy Barbato- Advisor, Kim Egbert- Advisor, Rachel Henn, Joanna Lewis, CJ Culpepper, Rob Lewis, Danny Hines, Royden Powell– Assistant Secretary, Office of Resource Conservation, Maryland Department of Agriculture. [Click image for larger rendition] (Submitted photo)
ANNAPOLIS (June 17, 2011) – A five-member team of high school students from St. Mary's County is the winner of the 21st annual Maryland Envirothon—an outdoor natural resources competition that challenges students to identify and categorize living resources, perform soil surveys and solve other complex natural resource issues. More than 100 challengers from 20 counties across Maryland took part in this year's competition. The event was held June 15-16 at the St. Mary's College of Maryland in St. Mary's County.
"It is great to see such a sincere interest in the science side of the environment," said Secretary Buddy Hance. "With the strong leadership and scientific expertise of these students, the outlook for our natural resources and agricultural industry is indeed very bright."
As winners of the Maryland Envirothon, St. Mary's County team members CJ Culpepper, Danny Hines, Rachel Henn, Joanna Lewis, Rob Lewis and alternate Jen Carlson will represent the state at the 2011 Canon Envirothon, which will be held at Mount Allison University, Sackville, New Brunswick, Canada from July 24-July 29, 2011. The students will be accompanied by teacher/advisor Kim Egbert. More than 50 teams from the United States and Canada are expected to compete at the national event. During the past five years, Maryland teams have consistently placed in the top 10 percent at national competitions.
The Maryland Envirothon is held once a year at an outdoor environmental education center. Students taking part in the competition study Maryland's natural resources for a year in hopes of winning. Working in teams of five with one to two alternates, students are trained and tested in four natural resource areas including soils, aquatics, forestry and wildlife plus an environmental issue that changes from year to year. This year's special environmental issue was Salt and Fresh Water Estuaries.
Each team's knowledge is tested under the supervision of foresters, soil scientists and wildlife specialists. Teamwork, problem solving and presentation skills are evaluated as each team offers a panel of judges an oral presentation containing recommendations for solving an environmental challenge. The team with the highest cumulative total wins the competition and the opportunity to represent Maryland at the Canon Envirothon.
At this year's competition the St. Mary's County team scored 433.5 points out of a possible 500. They were followed by teams from Harford County (427 points), and Carroll County (426 points)
Members of the top three teams were awarded scholarships ranging form $200 to $500 through the Constellation Energy Scholarship program. In addition, winning team members received a wildlife print, Maryland Envirothon denim shirt and other prizes.
The Frederic/Catoctin County team was the high scorer in the "soils" category of the competition with a score of 89 points out of a possible 100. The Mid-Atlantic Association of Professional Soil Scientists (MAPSS) presented each member of the team with a cash award of $50. In addition, the team received a print and gift cards.
Established in 1990, the objectives of the Maryland Envirothon are twofold—to test students' environmental knowledge and understanding of state resource issues and to instill a desire to learn more about the natural world. Winning teams compete at the local, state and international levels. The first Envirothon competition was held in Pennsylvania in 1979. Since then more than 30 states, Canada and Australia have embraced the program and sent teams to the international competition.
The Maryland Envirothon is sponsored by the Maryland Association of Soil Conservation Districts and the State Soil Conservation Committee. Contributors and supporters include the Maryland Departments of Agriculture, Natural Resources, and Environment, the University of Maryland College of Agriculture and Natural Resources, Garrett College, Maryland Agricultural Education Foundation, and the USDA Natural Resources Conservation Service.
Source: Maryland Department of Agriculture