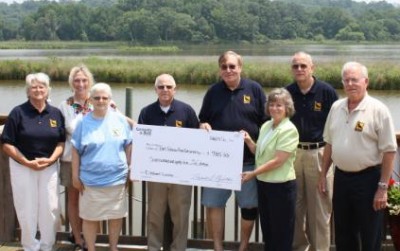 Becky Henderson, Community Bank of Tri-County, presents a donation to the Port Tobacco River Conservancy (PTRC) Board of Directors (including Jerry Forbes, PTRC President, Joyce Dean, Kathy Babiak, Joe Tieger, Charles Jackson, Connie Dunbar, Founder and PTRC Member, and Dave Gardner, PTRC Executive Director). (PRNewsFoto/Community Bank of Tri-County)
WALDORF, Md., June 14, 2011 /PRNewswire/—Community Bank of Tri-County announced today its donation of $2,125 to three local river conservancy organizations including the Potomac Riverkeeper, the Patuxent Riverkeeper and the Port Tobacco River Conservancy. Through its e-Statements campaign, Community Bank and its customers were able to make these donations.
"I am very excited to make these contributions to each organization," says Becky Henderson, Community Bank of Tri-County Senior Vice President. "I am so pleased with the customer response and very excited to have made a donation on behalf of Community Bank of Tri-County and our customers."
For each account enrolled in e-Statements, Community Bank made a donation to the "riverkeeper" organization—one for each county that Community Bank of Tri-County serves. These organizations advocate for creative solutions to the pollution that plagues Chesapeake Bay and its tributaries. Since there are more than 150 rivers and streams that drain into Chesapeake Bay, riverkeepers provide critical feedback in the effort to save our bay.
The Port Tobacco River Conservancy's mission is to enhance both the environment and the strong economic position of local businesses and property owners. Their vision is that the Port Tobacco River and its 30,000-acre watershed will return to the nearly pristine conditions experienced prior to the 1950s. The river will have clear and navigable waters, rich in fish and wildlife, and safe to the thousands of residents and visitors that use the river and streams for swimming, water sports, hunting and fishing, or just enjoying the beauty of this natural and historical resource.
Community Bank of Tri-County is the oldest independent financial institution headquartered in Southern Maryland with ten branches and over $800 million in assets. Community Bank of Tri-County branches are conveniently located throughout Charles, Calvert and St. Mary's counties.
Source: Community Bank of Tri-County