New Cruising Class, More Vendors and Entertainment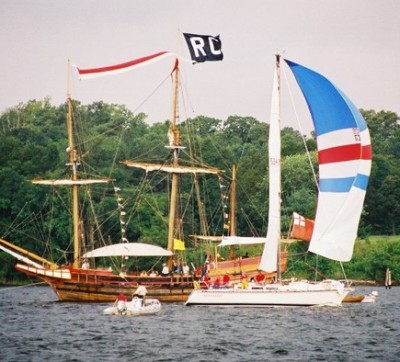 A boat crosses the finish line just off of Priest's Point, near the SMCM campus, in a prior year's Governor's Cup race. The black "RC" flag on the Maryland Dove, which stands for "Race Committee," marks the finish line. (somd.com file photo)
ST. MARY'S CITY, Md. (June 11, 2011) — The 38th annual St. Mary's College of Maryland (SMCM) Governor's Cup Yacht Race sets sail from Annapolis Friday, August 5, heading down the Chesapeake Bay overnight to land in St. Mary's City Saturday, August 6. A number of improvements have been incorporated to enhance the competition and increase participation, both in the race itself and the celebration afterwards, say event organizers.
The changes, developed by a planning group of college trustees, staff, and members of the broader sailing community, include:
-- Expanding race participation by adding a more informal cruising class and having the slower boats start first at 3 p.m. to ensure they get to more fully participate in after-race activities. Faster boats will start at 6 p.m.
-- More after-race family entertainment, including bands throughout the day and additional food vendors. Bands will play from 10 a.m. to 10 p.m. Vendors, including Indian cuisine, barbecue, and ice cream, open at 10 a.m. Invited organizations also will provide information on environmental, educational, and sailing issues.
"Our hope is to grow the sport by inviting cruisers, who've always dreamed of competing in the Governor's Cup, to come race in the new cruising class," said Adam Werblow, principal race officer.
The race from Maryland's capital to its first capital is the oldest and longest, continuously run, overnight race in the Chesapeake Bay.
Tracking competitors live during the race, via GPS, was such a success last year it will be offered again this year. The Kattack GPS system continually tracks the location of each boat, showing speed and distance traveled.
Visit
http://www.smcm.edu/govcup/
for more information or to register for the race.