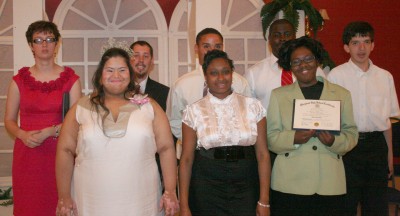 Pictured is the Charles County Adult Independence Program Class of 2011. Pictured, back row from left, are: Erica Young, Francis Istvan, Jr., Kevin L. Brown, Deyon Greenfield and Carson Bartlett. Pictured, front row from left, are: Brittany N. Morgan, Lauren M. Williams and Chanita Harrison.
LA PLATA, Md. (June 11, 2011)—Eight students in the Charles County Public Schools Adult Independence Program (AIP) graduated on Thursday, May 19, in a ceremony held at the Greater Waldorf Jaycees Community Center.
Certificates were presented to Carson Bartlett, Kevin L. Brown, Deyon Greenfield, Chanita Harrison, Francis Istvan Jr., Brittany N. Morgan, Lauren M. Williams and Erica Young. The Adult Independence Program provides students with community learning experiences that parallel experiences of independent adults.
Throughout the duration of the program, which is designed for student's ages 18 to 21, students acquire adult skills and apply them to community environments. Students in the program are trained to search for employment and to complete job applications, as well as how to access the public transportation system.
Participating employers in the 2010-11 program range from Burger King and Costco to the Richard R. Clark Senior Center and the LifeStream Church of the Nazarene. The program was launched in 1999 and has assisted more than 150 students in transitioning into work and community environments.