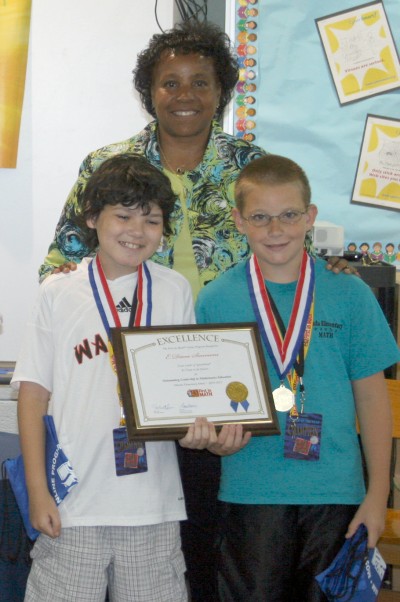 Matula fourth graders Joey Walsh, pictured left, and Michael Gill, pictured right, are congratulated for their top performance in the First in Math online challenge by their teacher, E. Diane Simmons, pictured back. Gill ranked first at Matula and 16th nationwide; Walsh earned second place among his peers at Matula and 23rd place nationwide. (Submitted photo)
LA PLATA, Md. (June 11, 2011)—A group of 34 fourth graders at Mary H. Matula Elementary School was recognized last week as the top team in Maryland and Charles County in the First in Math online challenge. The students were also named fifth overall at the national level among nationwide competing schools.
Brock Estes, representative from First in Math, visited the school on Wednesday, June 1, to recognize the students and to present the school with certificates of appreciation for their top participation. According to Estes, schools are ranked by county, state and nationwide levels of performance in the challenge, which requires students to log on to the First in Math Web site and solve "game challenges" designed to test and reinforce mathematical concepts.
The challenges focus on skills ranging from addition to algebra and are organized into skill sets. Each skill set includes 24 games constructed of three levels that teach students to build their skills as they progress through each level. An assessment tool is also built into the challenges to measure student performance and define skill areas in need of improvement.
Two students were ranked among the top 25 nationwide. Michael Gill earned the top rank among his peers at Matula and earned 16th place among students nationwide. Joey Walsh earned second place among his class at Matula and ranked 23rd nationwide. Estes presented each participant with a First in Math lanyard and a player of the year game card. The top five participants – Michael Gill, Joey Walsh, Francesca Bruce, Abbey Magsakay and Ethan Olmsted – also received medals to recognize their top performance.
Students in more than 68,000 schools nationwide competed in the challenge earlier this year. Each student received a user identification number and password to participate online at their own pace. Team leader for the First in Math program at Matula is teacher E. Diane Simmons.
The following students were also recognized for their performance in the challenge: Nasia Anderson, Melanie Battle, Kaden Bendebba, Kierra Butler, Reed Butler, Clay Carey, Gabriel Catterton, Jazmine Dent, Ethan Divelbliss, Ricky Duby III, Donya Forohar, Aloni Harley, Amber Heneghan, Chelsea Johnson, Cameron Langley, Rena Lee, Alyssa Marinelli, Anna Maynard, Cody McKnew, Preston McKnew, Griffin Moyer, Trisha Norwood, Cameron Payton, Trevor Reece, Ian Reyes, Matthew Stockwell, Mitchell Sullivan, Andrew Vliet and Rashawn Young.
Matula is also honoring the students on June 13 at a celebration at the Cracker Barrel.