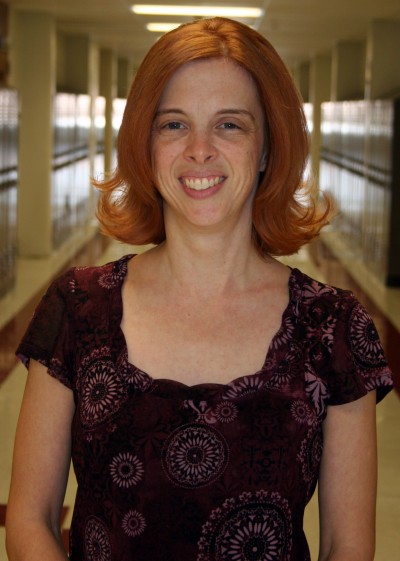 Stephanie Fara Harris-Walent is Charles County's Teacher of the Year for 2011. (Submitted photo)
LA PLATA, Md. (June 3, 2011) — On a typical day in Stephanie Fara Harris-Walent's language arts classroom, students are learning about character archetypes by wearing colorful masterpieces on their faces. Their assignment – create a mask that portrays the behaviors of a character in a book and discuss the traits with their classmates. This is just one example of a lesson plan that infuses Walent's passion for reading with her passion for teaching. "I want to make a difference and language arts is my strength. I love to read and wanted to teach others how to love reading," Walent said.
Walent, who began her teaching career with Charles County Public Schools at Somers in 2000, has high expectations for her students and strives to establish a positive learning relationship with them. She makes it a point to encourage her students to laugh as they learn and celebrates the successes of each student. The growth she sees in children is what Walent says makes teaching enjoyable and allows her to thoroughly enjoy her job.
Recently, a former student visited Walent to tell her that she was enrolling in college to study teaching. The student told Walent it was because of the fun she had learning in her class, her support and encouragement that inspired her to become a language arts teacher. Walent's dedication to providing her students with the skills to become successful in life is just one of the characteristics that earned her the title of the 2011 Charles County Public Schools Teacher of the Year.
Somers Principal Stephanie Wesolowski said Walent personifies what an outstanding teacher should be and has a natural ability to foster a love for reading and writing in each of her students. "She instills in her students the confidence to be successful. She consistently strives to make real world applications and connections when introducing her lessons. She is without a doubt the teacher of a lifetime for many of her students," Wesolowski said in a nomination letter.
Walent teaches seventh-grade language arts and has been the grade level team leader for the past seven years. She oversees the seventh-grade team and is the liaison between the team and school administrators. Walent holds monthly principals meetings and leads bi-weekly meetings with her colleagues. She is also the nomination coordinator for local, state and national recognition for students including the Ben Carson Scholar Awards and the Prudential Spirit Community Service Awards programs. In addition to being a teacher and taking on additional roles in the school, Walent says her favorite role is being a fan.
"Teaching is truly fulfilling. To have a child tell me that I am their role model, it is deeply humbling. That is why I do what I do. When kids tell me I helped them learn, and thank me for being their number one fan, it makes what I do enjoyable and worth it each day," she said.
Walent is also humbled by her selection to represent the school system as the Teacher of the Year. Although she considers her award as a representative of Somers, she feels privileged to represent Charles County Public Schools. "When Mr. Richmond came to Somers to share the news with me that I was selected as the Charles County Teacher of the Year, I was overcome with a myriad of emotions. I am deeply honored by this recognition and consider it a great privilege to be the representative for Charles County in this way," she said.
Caitie O'Donnell is an eighth grader at Somers and had Walent for language arts last school year. She said Walent has a special way of inspiring her students to work hard and better their learning skills while enjoying grammar, writing and even learning about Shakespeare. "One of the things she taught me is responsibility and to make the best out of everything. I learned to be responsible for my work and my actions as well. She made Shakespeare really fun for a lot of kids who were dreading reading his work. Ms. Harris did something that in my mind, takes a lot of talent to do. If anyone deserves this award it would be Ms. Harris," O'Donnell wrote in a nomination letter.
Walent's colleagues agree she is the ideal candidate for the Teacher of the Year award because of her determination and guidance to help all students realize their potential and how to do their best at any task. Kathryn Hunt, a gifted education resource teacher, works closely with the language arts department and said it is the personal connections Walent makes with her students that allows them to grow.
"She begins the year off by having all of her students create a dictionary definition of themselves which each student then leaves it in one of her binders for the next year's students to look at. Right there from the start, the students begin to feel like they are part of her family. After that the relationships grow, and no matter what happens, each student knows how important they are to Mrs. Walent," Hunt wrote in a nomination letter.
Last school year, Walent was also nominated by a former student for recognition through the Johns Hopkins University Center for Talented Youth (CTY) Sarah D. Barder Fellowship program. The program recognizes outstanding teachers and Walent was one of 15 nationwide teachers selected as a fellow. She was also nominated for Toyota's Working Woman of the Year award and received the first Difference Maker Award from the National Junior Honor Society at Somers. Additionally, she has served as a new teacher mentor for the past six years.
For Walent, teaching is all about the connection she makes with students and teaching them to thrive inside, as well as outside, the classroom. "My kids and I are a team. Teaching is about seeing kids make a real world connection. It is exciting when parents contact me and tell me 'thank you for turning my child into a reader'," Walent said.
Before joining Charles County Public Schools, Walent taught sixth- and seventh-grade language arts at a local private school, where she also served as the language arts department chair and senior class advisor. Beyond the classroom, Walent is involved with her church and enjoys traveling and photography with her husband, Jason, who is also a teacher.
Walent earned a Bachelor of Science degree in elementary education from Salisbury State University and has taken graduate courses with a concentration in education at Drake University in California. She is also a member of the National Education and Maryland State Teacher associations and the Kappa Delta Pi Educational Honor Society.
As Charles County's Teacher of the Year, Walent will compete for the Maryland Teacher of the Year award, which will be announced in October. The state winner receives a cash award, a new car, and will be considered for the National Teacher of the Year honor.
Source: Charles County Public Schools