LEONARDTOWN, Md. (June 3, 2011)—The St. Mary's County Sheriff's Office recently released the following incident and arrest reports.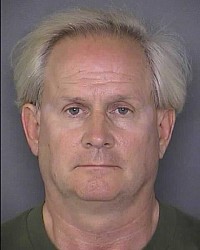 SEXUAL ABUSE OF VULNERABLE ADULT: On May 26, BCI detectives began an investigation into the sexual abuse of a vulnerable adult. The investigation revealed John Waring Raley, 61, pictured at left, of Leonardtown, sexually abused a 27-year-old disabled male who was in Raley's temporary care. Detectives reviewed the investigation with the St. Mary's County State's Attorney's Office. On May 30, John Raley was arrested and charged with sexual abuse of a vulnerable adult. On May 31, Raley was present before a St. Mary's County District Court Commissioner and released on a $7,500 bond.
POSSESSION OF A HANDGUN: On May 30, a lookout was broadcast for a burgundy Dodge Charger occupied by individuals who were armed and identifying themselves as federal agents. A short time later, the vehicle and individuals were located on Great Mills Road in the area of Chancellors Run Road in Great Mills. Further investigation revealed Lafon Davonte Armstrong, 23, of New Carrollton, and Kwame (NMN) Ayling, 38 of Severn, were carrying loaded handguns concealed on their person. Neither Armstrong nor Ayling were law enforcement officers or licensed in Maryland to carry a handgun. Both indicated they worked for a bail bonds service in Virginia. Armstrong and Ayling arrested and were charged with wearing or carrying a handgun concealed on their person and transporting a handgun.