Features International Artists, Americana, and Patriotism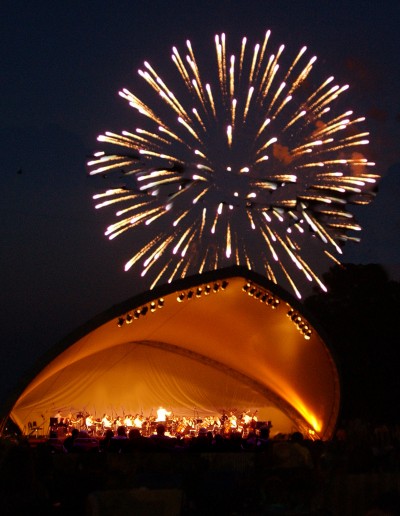 Fireworks explode in the background over the concert pavilion on the campus of St. Mary's College of Maryland during a previous year's River Concert. (Submitted photo)
ST. MARY'S CITY, Md. (June 3, 2011) — The ever popular St. Mary's College of Maryland's River Concert Series on the shores of the St. Mary's River will begin its 13th year on June 17 and run every Friday through July 29. The weekly celebration includes world-class music and delicious food from local vendors. Gates open at 5 p.m. and concerts start at 7 p.m. Renowned guest artists, including Spanish sensation pianist Antonio Soria, the U.S. Army Chorus, and Broadway star Melissa Errico, join music director Jeffrey Silberschlag and the Chesapeake Orchestra; and there will be a fireworks display on the river July 1.
The seven-week River Concert Series festival is expected to draw more than 40,000 fans. This summer, the evening celebrations of music include works from Finland, Spain, and Italy by the college's international artists including flutist Giuseppe Nova, violinist José Cueto, and cellist Suzanne Orban. To celebrate Independence Day, readings from Thomas Jefferson will be set to music, along with patriotic songs and fireworks to recognize the 100th anniversary of Naval aviation. A week later, the Chesapeake Orchestra welcomes the U.S. Army Chorus. And the grand finale on July 29 showcases tunes from the American Songbook and Ravel's Suites.
The outdoor concerts are free and open to the public, and picnic baskets are welcome. For more information, visit the River Concert Series web site at
www.riverconcertseries.org
or call 240-895-2024.
The full schedule of the 2011 River Concert Series:
June 17—Wintry Mix in June
The music of Finnish composer Jean Sibelius and Russian composer Dmitri Shostakovich will be performed, along with pianist Eliza Garth playing Bartok's third piano concerto that features jazz and American harmonic imagery. A composition by St. Mary's alumna Mary Coy '11 will also be premiered.
June 24—An Evening and the Summer Palace
Artists including St. Mary's own Giuseppe Nova (flutist), Karen Johnson (flutist), and Suzanne Orban (cellist), join Fatma Daglar on oboe and Bryan Bourne on trombone for an evening of Baroque music including the masters Bach, Handel, Telemann, and Vivaldi. Nina DeCesare, the 2010 winner of the first annual Young Artist Concerto Competition for talented high school musicians, will also be featured.
July 1—Independence Day Weekend: Thomas Jefferson in his own words
The Chesapeake Orchestra offers readings from Thomas Jefferson set to music along with festive patriotic music, a salute to Naval aviation's 100th anniversary, and of course fireworks.
July 8—"Shoulder to Shoulder" (or, a lot of Good Men)
The Chesapeake Orchestra and Larry Vote, guest conductor, welcomes the U.S. Army Chorus.
July 15—European Vacation
Be transported to Spain and the Alps with works by Manuel DeFalla (Nights in the Garden of Spain) performed by Spanish pianist Antonio Soria, and Richard Strauss' Alpine Symphony.
July 22—The Eternal Light
Mahler's first symphony, The Titan, will be performed, along with Leonard Bernstein's Dance Variations and the world premiere of a work by St. Mary's professor David Froom.
July 29—The Grand Finale
Broadway star Melissa Errico will be featured with the music of Stephen Sondheim. Also on the program is Ravel's orchestral Suite, Daphnis et Chloe, and Jeffrey Silberschlag will be performing a new work by Italian composer Corrado Saglietti for trumpet and orchestra.
Silberschlag, music director and conductor of the River Concert Series, Chesapeake Orchestra, and the Italian Alba Music Festival, has recorded with the London Symphony, London Philharmonic, Seattle Symphony, Royal Liverpool Philharmonic, Warsaw Philharmonic and Czech Radio Orchestra. His performances have been hailed by European critics as thrilling, compelling, and outstanding.
Sponsors for the entire series include the Arts Alliance of St. Mary's College of Maryland, BAE Systems, Booz Allen Hamilton, Comcast Cable Corporation, G&H Jewelers, Lockheed Martin, ManTech International Corporation, Maryland Public Television, Maryland State Arts Council, MetroCast Communications, Northrop Grumman, Raytheon, River Concert Series Audience, SAIC, Smartronix, St. Mary's County Arts Council, St. Mary's County Government, and Wyle. Concert sponsors include Aviation Systems Engineering Company (ASEC), The Boeing Company, Bowhead Science and Technology, Camber Corporation, Cherry Cove Hospitality, Cole Travel, Compass Systems, Inc., CSC, DCS Corporation, Eagle Systems, GE Aviation, GIANT, L-3 Services Group, National Technologies Associates, Inc., Old Line Bank, Phocus Video Communications, PSI Pax, Resource Management Concepts, Inc., Sabre Systems, Inc., Target Stores, Taylor Gas Company, and Yamaha Pianos.