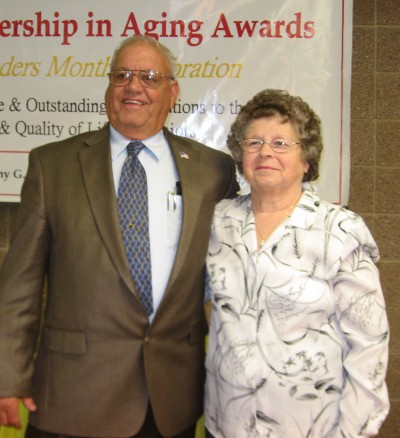 Jerry B. McMahon, recipient of the Fourth Annual Governor's Leadership in Aging Award in the Trailblazer category, with his wife, Joanne, on Tuesday, May 10. (Photo Courtesy of Charles County Government)
LA PLATA, Md. (June 3, 2011) — Maryland Governor Martin O'Malley commended a Charles County senior citizen this month in observance of Older Americans Month and Older Marylanders Month. The Fourth Annual Governor's Leadership in Aging Award was presented to Jerry McMahon of Waldorf.
Mr. McMahon's achievement led the state of Maryland in the Trailblazer category, which recognizes an individual, community group, business, or organization that has demonstrated leadership in advocacy or developed an innovative program, research, or training for seniors. Mr. McMahon was lauded for his work with the Waldorf Senior Center, the St. Charles Mall Walkers, Senior Services of Charles County. Inc., and his commitment to his neighbors and large family.
Each year, older Marylanders are recognized for the accomplishments, contributions, and service to the community, state, or nation. The award recipients play a critical role in strengthening and building a stronger state for their peers and future generations. Other categories include: Visual Arts, Performing Arts, Health & Vitality, and Photography.
The award ceremony was held on May 10 in Catonsville. Mr. McMahon was nominated for the award by Ms. Ann Walter, Waldorf Senior Center Coordinator, Charles County Department of Community Services.