By Jennifer Erickson, Public Affairs Officer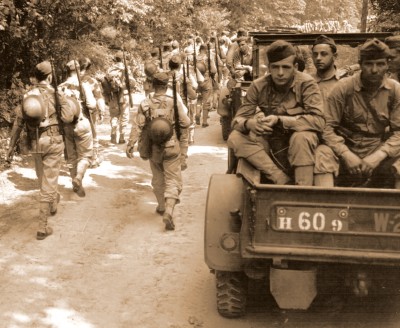 During World War II, Soldiers trained at Fort A.P. Hill before embarking overseas. (U.S. Army photo)
FORT A.P. HILL, Va. (June 3, 2011) — Commemorating years of service training Warriors for various military operations worldwide, Fort A.P. Hill will host its 70th Anniversary Celebration, June 11.
The day will commence with an Americana Military Parade in Bowling Green at 10 a.m. to honor all Veterans and those military members who serve in our nation's Armed Forces. Following the parade, Port Royal will host historical and art gallery tours from noon until 2 p.m. The day's events will culminate at Fort A.P. Hill with the Military District of Washington's Twilight Tattoo at 7 p.m.
The parade will include the American Legion Riders and the U.S. Army Explosive Ordnance Disposal Training Center Soldiers and robot, 392nd Army Band and 49th Quartermaster Group at Fort Lee. Parade grand marshals will include a Caroline High School JROTC cadet and Vietnam and Korean War Veterans.
Bowling Green Mayor David W. Storke noted that the town has a history dating as far back as the Revolutionary and Civil Wars. In fact, he said, its town hall was once a USO building during World War II.
"I just think it's very appropriate given the history between the town and the installation," the mayor noted. "The parade is a nostalgic way of galvanizing that relationship."
Port Royal was first settled in 1652 and chartered in 1744. Celebrating its historic roots, the town will open its portrait gallery, have copies of the walking tour available from 12-2 p.m., and will open St. Peter's Church for guided tours. Port Royal Mayor Nancy Long shared Storke's enthusiasm for the celebration.
"We are delighted that [Fort] A.P. Hill has made this a community-wide event and we are thrilled to be a part of it," she said.
Following the community activities at 2 p.m., the post will open its main gate off of U.S. Route 301 to the public.
At the Beaverdam Picnic Area, military displays will showcase various tactical vehicles units use to train with at Fort A.P. Hill as well as a Civil War encampment featuring "Lt. Gen. Ambrose Powell Hill," portrayed by Patrick Falci who gained fame for his role in the movie, "Gettysburg."
Beginning at 6:30 p.m., the U.S. Army Band, "Pershing's Own," will kick off the prelude music to the Twilight Tattoo pageant which starts at 7 p.m.
The Twilight Tattoo is an hour-long sunset military pageant that features Soldiers of the 3rd U.S. Infantry Regiment "The Old Guard;" the Fife and Drum Corps; Soldier-musicians/vocalists from the U.S. Army Band, "Pershing's Own;" the U.S. Army Chorus; and, the U.S. Army "Downrange."
With more than 100 "Old Guard" Soldiers wearing period uniforms, the show will provide a fast-paced journey through Army history from the Revolutionary War to its current involvement in Iraq and Afghanistan.
Just as crowds will watch the Army's history unfold, they will travel on a journey reminiscent of Fort A.P. Hill.
The installation traces its roots back to 1941 when it was initially established as a maneuver training area and later as a staging area for Maj. Gen. George Patton's task force during World War II. Since then, hundreds of units have trained here for such military operations as Desert Shield/Desert Storm, Bosnia, Kosovo, Afghanistan and Iraq.
In fiscal year 2010 alone, nearly 94,000 Warriors trained on Fort A.P. Hill — its highest training throughput in 16 years.
"June 11th will mark a significant day in our 70-year-history — a day we can all come together as a proud American community united in patriotism and enthusiasm for this great nation," said Lt. Col. John W. Haefner, garrison commander.
"June 11th is about you — the citizens we support and defend. It's our way of saying 'thank you' for all you do in support of the 100,000 Warriors who train here annually," the commander said. "Bring your family and bring your friends. There will truly be something for all to enjoy — whether it's saluting our Veterans in a parade in Bowling Green, learning about those who came before us at the historic art gallery in Port Royal, or watching the Army's history unfold in the Twilight Tattoo — you will not want to miss this event."
Though the event is free and open to the public, individuals must produce a valid photo ID at the gate to gain entry.
Food and beverages will be available for purchase on site, but because of limited seating, visitors are encouraged to bring lawn chairs and blankets to the event. Weapons of any sort, glass bottles, alcoholic beverages, fireworks or any other type of explosive/pop caps are prohibited.
For more information, check out the anniversary updates at
http://www.fortaphill.wordpress.com/70th.