LA PLATA, Md. (June 1, 2011)—The Charles County Sheriff's Office today released the following incident and arrest reports.
OFFICER ASSAULTED DURING ARREST: On May 30 at 11:45 p.m., officers responded to the 3800 block of Light Arms Place in Waldorf for a dispute among family members. As officers intervened, several people became disorderly and were placed under arrest. During one arrest, a female attempted to remove the arresting officer's gun from his holster. The officer was able to get her hand away from the gun at which time she tried to hit the officer in his chest with her elbow. The officer deflected the strike and subdued the woman. Irma Palomino, 63, of Waldorf, was charged with attempt to disarm a police officer, assault and disorderly conduct. Another person, Marcus Jason Williams, 18, was charged with disorderly conduct.
FIRST-DEGREE ASSAULT: On May 29 at 11:30 p.m., officers responded to Raymond Avenue in Indian Head for an assault. Upon arrival, officers met with a male, 47, who said an acquaintance stabbed him in his leg. Officers canvassed the area and found the suspect, Nicole Lynette Robinson, 36, of Indian Head. She was arrested and charged with first-degree assault. The victim was treated on the scene for a minor wound. PFC P. Hood investigated.
LAWN TRACTOR STOLEN: Between May 26 at 11 p.m. - May 27 at 3 a.m., unknown suspects stole a red Ferris Zero Turn lawn mower from a shed in the 6900 block of Valley Road in La Plata. Witnesses reporting seeing a suspicious truck and trailer in the area at about 3 a.m. but did not call police to report it. Officer D. Raby is investigating.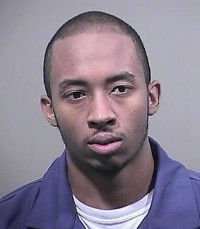 OFFICERS IDENTIFY ROBBERY SUSPECT AND OBTAIN ARREST WARRANT: On May 26 at 5:50 p.m., officers responded to the 4300 block of Reeves Place in Waldorf for the report of a robbery. Investigation showed the victim, 17, was walking on a foot path when a male approached, implied he had a weapon and demanded the victim's back pack. The victim complied and the suspect fled. Officers followed up leads and subsequently identified the suspect as Darryl Anthony Hall, II, 26, of Waldorf, pictured above. A warrant charging Hall with strong-arm robbery has been obtained and investigators are actively searching for him. Anyone with information about his whereabouts is asked to call (301) 932-2222. Callers wishing to remain anonymous may call Charles County Crime Solvers at 1-866-411-TIPS or Text CHARLES + your tip to CRIMES or visit www.ccso.us to submit a web tip. All callers remain anonymous. Crime Solvers is offering a reward of up to $1,000 for the tip that leads to the arrest and indictment of the suspect. Officer D. Arends is investigating.