PRINCE FREDERICK, Md. (May 23, 2011)—The Calvert County Sheriff's Office released the following incident and arrest reports.
WEEKLY SUMMARY: During the week of May 16 through May 22, deputies responded to 1,898 calls for service throughout the community.
DRUG ARREST: On May 16 at about 3:00 p.m. Dep. M. Quinn arrested Elizabeth Evelyn Ablonczy, 41 of Baltimore, and charged her with attempting to obtain Adderall by altering a prescription. Ablonczy tried to fill the prescription at the CVS Pharmacy in Dunkirk. Employees there contacted the doctor for verification who advised the prescription had been altered.
DRUG ARREST: On May 17 at 10:32 p.m. DFC M. Robshaw stopped a vehicle in the area of Md. Rt. 4 and Md. Rt. 260 in Owings for a traffic violation. He found the driver and a single passenger to be in possession of suspected drugs. Brian Demetrius Gardner, 42 of Washington, D.C., and Russell Andrew Bailey, 57 of Landover, were both arrested and each charged with possession with intent to distribute cocaine, possession with intent to distribute Oxycodone, possession of marijuana and possession of drug paraphernalia, a digital scale.
THEFT: Sometime between May 10 and 18 someone stole a Stihl back-pack leaf blower, white, orange and black in color, valued at $450 from the shed of a home on Elizabeth Court in Chesapeake Beach. Anyone with information is asked to contact DFC A. Woodford at 410-535-2800.
DRUG ARREST: On May 19 at 8:06 p.m. while on patrol in Chesapeake Beach, Cpl. R. Wilson conducted a traffic stop on a vehicle on Harbor Road. He found the occupants to be in possession of suspected drugs. Three juvenile females, a 15-year-old from Rosehaven, a 16-year-old from Chesapeake Beach and a 17-year-old of Chesapeake Beach, were each charged on a youth report with possession of marijuana and released to a parent. A charge of possession of marijuana is pending against one adult female who was in the vehicle, Patricia Ann Newman, 43, of Chesapeake Beach.
DISORDERLY: Two women were arrested May 20 at 1:00 in the morning in Solomons and charged with disorderly conduct and failure to obey a lawful order when DFC T. Rickard advised them both numerous times to quiet down. The two were apparently having a verbal disagreement in the parking lot near the boardwalk. Kendra E. Jones, 26 and Kaneesha L. Gross, 21, both of Lusby, were each arrested and charged.
THEFT: Unknown suspect(s) stole a white super duty tailgate off of a 2001 Ford 250 pickup truck while it was parked outside a home on Flag Harbor Blvd. in St. Leonard overnight between May 19 and 20. DFC J. Bell is investigating.
DESTRUCTION OF PROPERTY: Someone caused $1450 in damage to a Yamaha Waverunner, a dock and electric lighting of a private boat dock on Ridge Terrace in Lusby sometime between May 14 and 20. Anyone with information is asked to contact DFC J. Morgan at 410-535-2800.
BURGLARY: A home on Olivet Road in Lusby was burglarized between 9:00 a.m. and 3:00 p.m. on May 20. A set of diamond earrings valued at $250 was stolen. DFC J. Morgan is investigating.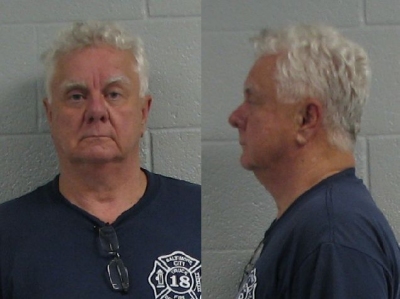 Charles Joseph Armiger, 66, of Solomons, was arrested and charged with assault after allegedly shooting a 15-year-old skateboarder. Armiger told police the shot was intended to scare, not wound. The boy was among a group of teenagers who were reportedly trespassing and creating mischief near Armiger's condo. (Arrest photos)
MAN SHOOTS 15-YEAR-OLD SKATEBOARDER: On May 16 at 6:05 p.m., police units were dispatched to the Solomons Landing Condominiums to investigate the report of trespassers. As Sgt. M. Hurlock was responding to the scene, he heard a single gunshot. Hurlock was then approached by an elderly white male, later identified as Charles Joseph Armiger, 66, of Solomons, who was holding a shotgun.
Subsequent investigation revealed that a fifteen-year-old male of Lusby was struck above his right knee with a single gunshot fired by Armiger. The victim was transported by Trooper 7 to P.G. County Hospital Shock Trauma Unit with non-life threatening injuries.
Armiger was taken into custody and interviewed at the Sheriff's Office by Det. Sgt. M. McDonough and Det. R. Naughton of the Calvert Investigative Team. Armiger advised the investigators that he had encountered problems with a group of juvenile skateboarders on the Solomons Landing property in the past. On this evening, he stated that he observed 7 or 8 juveniles on their skateboards and heard them using profanity and banging on the doors of other residents. Armiger says that when he tried to intervene, one of the juveniles called him a profane name so he pepper sprayed him. The remaining juveniles fled toward Md. Rt. 765 attempting to leave the area. Armiger states that a neighbor ran after the kids while Armiger went back inside his home and retrieved his shotgun. Armiger advises he fired a shot intending to scare the juveniles but the shot struck the victim, who was on Md. Rt. 765 still attempting to leave the area. Armiger has been charged with first degree assault and second degree assault. Bond has been set at $50,000. Det. M. Fitzgerald is continuing the investigation. Anyone with information is asked to contact him at 410-535-1600 ext. 2772.