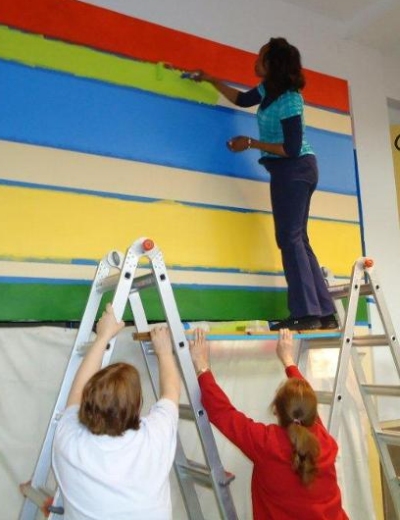 Local artist Lorina Harris and her Charles County Arts Alliance team paint their vividly hued "Mall Wall" mural promoting the arts during a recent weekend after-hours paint-party at the St. Charles Towne Center in Waldorf. (Submitted photo)
WALDORF, Md. (May 13, 2011) — Over the past few months, Charles County Arts Alliance (CCAA) Board member and artist Lorina Harris has spearheaded the "Mall Wall" project at the St. Charles Towne Center to promote local arts and the CCAA.
Last year, Harris noticed a blank wall space just outside Kohl's Department Store on the upper-level beside the Community Wall. She envisioned creating a vividly-hued mural with large lettering that proudly proclaimed, "Experience the Arts!" and included a large arrow pointing to a glass-enclosed bulletin board advertising the Charles County arts scene to mall-shoppers. After months of planning and many conversations with the St. Charles Towne Center management, the project was approved, and recently became a reality.
In an after-hours "stealth" paint-party, volunteer painters entered via an unmarked "secret" passageway known only to Mall personnel and quickly got to work painting Harris' eye-catching design. Harris and her volunteers were in a race against time as the project had to be completely accomplished after hours between 9:30 pm Friday night and 11:00 am Sunday morning when the Mall reopened. When they left the mall on Sunday morning, the paint was still wet!
"We are delighted to have created this strikingly beautiful graphic artwork at the mall," said CCAA President Diane Rausch. "Our goal is to encourage the thousands of mall shoppers every day to experience the arts by attending our many excellent and diverse arts events — festivals, concerts, shows, exhibits, workshops — here in Charles County."
The team of volunteers who helped create the mural included Bill Adams, Roy Jenkins, Cindy Johnson, Gale Kladitis, Robert Rausch, and Diane Rausch.
For more information on the CCAA, visit
www.charlescountyarts.org
.