College Awards 430 Candidates for Degrees, Certificates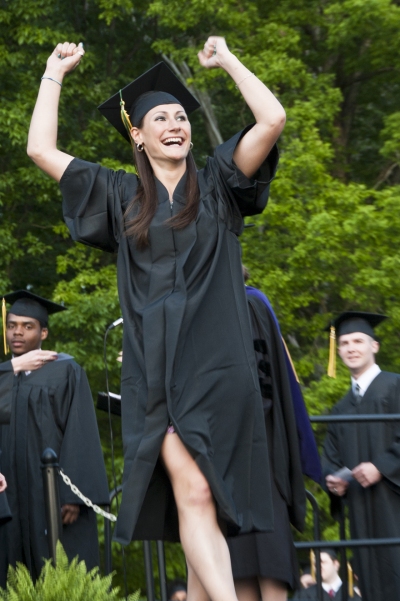 Shelby Matullo of Chesapeake Beach expresses jubilation during CSM's 52nd Spring Commencement in La Plata Thursday. (Photo: CSM)
LA PLATA, Md. (May 13, 2011) — The College of Southern Maryland celebrated 430 candidates for degrees and certificates during its 52nd spring commencement ceremony held Thursday at the La Plata Campus.
Associate degrees were awarded predominantly in the fields of general studies, nursing and business administration. Most of the certificates were awarded in the areas of general studies: transfer, and basic and advanced accounting.
At the 2011 spring commencement, CSM awarded 482 associate degrees and 198 certificates. Of the candidates for graduation, 70 percent were female; 45.3 percent were from Charles County, 29.8 percent from St. Mary's County and 21.2 percent from Calvert County; 3.8 percent were from outside the region. The ages of this spring's recipients ranged from 16 to 67.
"We recognize that many of you have completed your studies while working, raising families and volunteering in your community," CSM President Dr. Brad Gottfried told graduates. "You have chosen to make sacrifices in your life now in order to invest in a more promising future. We hope you are forever linked to your college and to your community. This is your alma mater and we take great pride in your accomplishments."
CSM's most senior graduate this spring is Janis L. Jacobs, 67, of Leonardtown, who received her associate's degree in nursing. Following a 20-year career in education and a 10-year career in real estate, Jacobs is embarking on a career in nursing.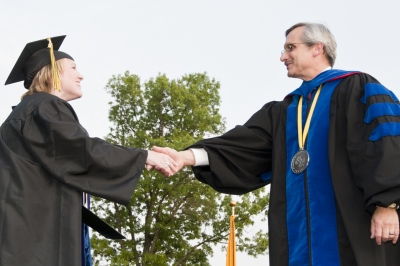 Olivia A. Wolski, 16, of Dunkirk, is the youngest graduate in the commencement. A homeschooled student, Wolski at age 14 was told that she had only one high school class to complete before she would get her diploma. This fall she will transfer to pursue her bachelor's degree at the University of Maryland and intends to delve into a master's degree program after that. (Photo: CSM)
Olivia A. Wolski, 16, of Dunkirk is CSM's youngest graduate this spring, receiving an associate's degree in computer science. "It's been a wonderful experience. I can't imagine anywhere else in Southern Maryland that would have given me the opportunity to graduate college at the age of 16," Wolski said.
Courtney Sanders graduates with high honors and receives associate's degrees in biotechnology and biological sciences. Now, a student studying biochemistry and mathematics at St. Mary's College of Maryland (SMCM), Sanders is able to transfer her organic chemistry class credit back to CSM to meet her associate's degree requirements.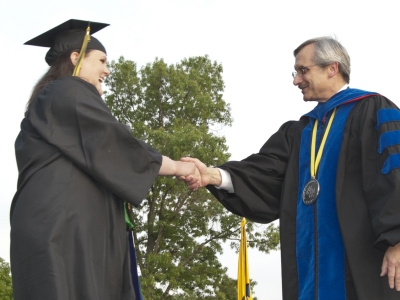 Ana-Alecia Stauffer is CSM's first Scholars Program graduate. (Photo: CSM)
CSM's spring graduation produced the first graduate of the college's Scholars Program, Ana-Alecia Stauffer, 24, of Hollywood, receiving an associate's in arts and sciences. This program is a selective admission program for students who are seeking academic challenges. Stauffer, who graduated from CSM with an associate's degree in history in 2007 and who attended the University of Maryland College Park for a semester, returned to CSM while saving funds to continue toward a bachelor's degree in history. "I didn't want to stop coming to school," said Stauffer, who added that her mentor, Professor Christine Arnold-Lourie, is encouraging her to continue to work toward her ultimate goal of a doctorate in history and a teaching career. "She has been wonderful and has been responsible for my love of history."
Several students overcame great obstacles to attend CSM, one of those was Brittany Burks, 21, of Bel Alton, who despite the challenges of living with rheumatoid arthritis and fibromyalgia, is graduating with an associate's degree in art.
"Every one of our graduates has their own story," said Gottfried. "Some have struggled, some have excelled, but all graduate with the knowledge that they can succeed anywhere."
The National Anthem was performed by CSM student Jessica Flowers of Mechanicsville. She is a vocal soloist with CSM's Latin Ensemble, "Ritmo Caché," and a soprano in the CSM Chorale.
The commencement ceremony's student speaker was Student Government Association President Tia Dickerson of Lusby.
The keynote speaker was Dr. Freeman A. Hrabowski III, president of University of Maryland Baltimore County (UMBC). Before coming to the event, Hrabowski checked the progress of students who transferred from CSM to UMBC and reported that all 30 have done well in their first year and that 60 percent of those have a 3.0 grade point average. "Students, savor this moment," he said, adding "If you can make it here you can make it anywhere."
The Faculty Excellence Award was presented to Mathematics Professor Susan R. Strickland by CSM Faculty Senate President and Economics Professor Michael Green.
During the nursing recognition ceremony held earlier in the day, Rachel Eaby of White Plains received the Academic Achievement in Nursing Award, given to the graduate with the highest grade point average in the nursing class. Sarah Istvan of Prince Frederick was awarded the Achievement in Nursing Award, presented to the graduate who demonstrates academic achievement, clinical competence, community service and leadership potential.
At the college's May 11 Honors Convocation, 16 students were recognized for achieving highest honors (3.9-4.0 GPA), 28 for high honors (3.75-3.89 GPA) and 59 for honors (3.5 to 3.74 GPA).
Since the college opened its doors in 1958, there have been more than 18,600 graduates and thousands other students who have taken courses at the college's three campuses or via distance education opportunities.
The following students at the College of Southern Maryland are candidates for degrees or certificates from the 52st spring commencement.

Calvert County

Chesapeake Beach
Nicholas Robert Bourassa
Crystal Marie Friend
Crystal Angela Harding
Shelby Anne Corin Matullo
Julie Caroline Ridgeway
Katelyn Joy Snyder

Deale
Stephen E. Stanton, Jr.

Dunkirk
Kimberly A. Bowlsbey
Derek Lee Carter
Rachael Christine Clark
Amy Heather Jones
Kendyl Paige Sunderland
Olivia Anne Wolski

Huntingtown
Carl M. Ball
Travis C. Bugarski
Jennifer M. Crocker
Jordan Lynne Fears
Harry Frank
Bryan M. Gravener
Kristy Lee Hill
Ashlee Nichole Hilton
Santa Barbaro Iannone
Katelyn Marie Johnson
Anthony M. Langer
Rachel Alexandria Manning
Becky Mattera
Cecilia Lynn Mixon
Christina Lin Ohler
Lauren Marlene Perry
Dana Leigh Plater
Christine M. Sharpe

Lusby
Ashley Naomi Hermena Adams
Katie Eileen Brown
Jasmine Nicole Brown
Ashley Caldwell
Amy Elizabeth Felsher
Sherry Ann Foltz
Nicole Charlene Frey
Trinette Carol Garner
Kelsey Sara Gieseler
Dallas Faye Harris
Wendell D. T. Hicks
John Bernard Holman III
Jennifer Lynn Ireland
Michael A. Jones
Mary Catherine Kavades
Jordan Nicholas Kron
Jennifer A. Magee
Michael Martocci
Chelsea Noel McCloskey
Justine Elizabeth Reimer
Laniqua Z. Richardson
Natasha Melissa Robey
Allen Clifton Robinson, Jr.
Victoria Lyn Roy
Courtney Y. Sanders
Jennifer Ann Seymour
Susan Lynn Spindler
Jeffrey O'Brian Sullivan
Heath Saad Tabet
Thaddeus Stephen Wright
Samuel Joseph Wright
Aaron Justin Zell

North Beach
Sabrina Lynn Duvall

Owings
Holly Jean Crouse
Michael Joseph Gray
Heather Marie Murvin
Xiu Lian Tse
Deborah Ann Wendolek

Port Republic
Kristina Ganyon
Jennifer Nicole Graf
Ember Smootz
Jennifer Louise Sodero

Prince Frederick
Logan Andrew Alderman
Meghan Noelle Bonner
Jenna Paige Fansler
Mark R. Fields
Alexis Nicole Frost
Sarah Elizabeth Istvan
KaLynn M. Johnson
Patrice Wyetta Robinson
Lindsey Marie Shaner
Joshua Sean Meyers Struble
Vicki Lee Swann

Saint Leonard
Shirley A. Bean
Casey Marie Beavers
Lee J. Bell
Stacey Marie Haynes
Lorraine Rhodes Joyner
Ashley Marie Loy
Sterling D. Myers
Pamela Anne Sheridan

Solomons
Devon Marie Herbicek Fehn

Sunderland
Paul K. Nicholson, III
Brittany Marie Thorne

Charles County

Aquasco
Melissa Marie Walt

Bel Alton
Anna Rebecca Belmore
Brittany Marie Burks
Taylor Leah Calloway
Alexandra Justine Donaldson
Scarlett Faye Gragan
Miranda M. Scroggins

Bryans Road
Lindsey N. DeLozier
Adnan Zaheer Qureshi
Daniel Santiago Russ

Bryantown
Raymond Lance Jeffries

Charlotte Hall
Jordan Olivia Donohue
Laura Jeanette Durner
Kelly V. Gerrie
Rachel Lynn Radtke
Joshua Adam Schlosser

Cobb Island
Kathleen Mitchell Reitmayer

Faulkner
Annette Tiffany Piffner
Kalee Michelle Stine

Hughesville
Andrea Susan Adriani
Clint Thomas Ayres
Matthew Collier Clodfelter
Amy Jane Harshbarger
Mackenzie Lynn Herbert
Lanisha Janae Wright

Indian Head
Nieda Lynn Billard
Ashley Danielle Cundiff
Tami R. DeMarr
Daniel E. Entzian
Shenequa Nicole Fountain
Harold Hayes Jr.
Raycha Rose Jimenez-Dobbins
Ozaree L. Lee
Angela D. Majors
Kathleen Marie Spalding
Ashley Marie Sweeney
Brandy Lenora Thompson

La Plata
Amani Nicole Alexander
Dominic Anastasi
Matthew Daniel Backman
Michael Russell Baker II
Kathy L. Barnes
Sherri L. Bowling
Ken M. Boykin
Marisa Harumi Brashears
Harry Jackson Byrd III
Vicente Jose Chavarria
India Maureen Cox
Mary Lynn Davis
Aaron J. Dull
Laura Lea Dyson
Michael Phillip Gianino
Ashley Michelle Gilbert
Melissa Grippo
Amy Lynne Hoffmaster
Devin Sinclair Jones
Mikayla Ann Kelley
Cassandra Ann Kuchar
Leanne Taylor Lakes
Kyle James Lockrow
Kelly E. Long
Erica Suzanne Martin
Stephanie Cooksey Moore
Audrey Kaye O'Clair
Heidi Nicole O'Dell
Jessica L. Osborne
Rebecca Lan Schmeltz
Amanda Lien Schmeltz
Rachel Ann Scott
Janice C. Shadday
Eric Smith
Eugene Solomon III
Adrienne Valerie Stancliff
Eric R. Stancliff
Ethan Shugart Stewart
Holly A. Testerman
Paul A. Toscano
Kristina Ann Tzafaroglou
Caitlin Denise Willett
Ashley E. Wright

Marbury
Tara Brittany Finkle
Michael J. Knies
Charles M. Swann Jr.

Mechanicsville
Melissa Ann Henriquez
Christina Joy Hinton

Nanjemoy
Cory D. Bragg
Michelle Anne Smith

Newburg
Sandra Kay Dent
Nina Lynn Garner
Jennifer Lee Long
Mary Joyce Wilson

Port Tobacco
Jessika I. Melendez

Swan Point
Robert Nunzio Andershonis
Darlena T. Griffith

Waldorf
Passadawn Manair Baker
Janet Marie Benjamin
Stephanie Patrice Bridgett
Melvin Eugene Brown
Nicole L. Brown
Pilar Arlena Brown
Mark Anthony Buchanan
Jacob Alexander Bullock
Elizabeth E. Cambridge
Justin Clements
Lindsay Michelle Crisostomo
Jamie M. Davis
Katelynn Joy Daye
Amanda Jean Daye
Alea A. De Belen
September Tanya Wood-Dietrich
Brittany Kay Dixon
Eugene V. Dorestal
Sabine Dorestal
Lauren Ashley Duncan
Shannon Fletcher
Jaime Michelle Gaskins
Omar Malik Gibbs
Veronica E. Gibbs-King
Ashleigh Nicole Grazier
Cory Michael Gregan
William Dustin Handy
Essence Danielle Harris
DeVaughn Gregory Hilliard
William John Hoffman
Alyssa Nicole Hoyle
Travis W. Humphrey
Krystle Ann Johnson
Jonathan Richard Keeler
Teonna R. Keys
Megan Amanda Kilgore
Shane Austin Kirby
Chelsea Knudson
Terence L. Lewis
Jessica Lynn Lord
Dana Rae Manning
Shannon Nicole McClanahan
Becky Jo Anna Miller
Dennis Harold Moore Jr.
Lavern Nelson
Huynhnhu T. Nguyen
Brittney Lynn Nimmerrichter
Amanda Lynn Ortiz
Christopher Anthony Rainey
Angela Shannon Rick
Jeannie Cecilia Riley
Linda E. Rodriguez
Vasilisa Salamatovs
Zachary W. Schott
John Seekford
David R. Shelnutt
Brittany L. Short
Kristi Smith
Sean Thomas Stinson
Denise Elizabeth Stockman
Kristen Ryann Stump
Maynard Mark Thorn
Penny Arlene Trusty
Shelda Rana Turner
Christopher Doyle Vincent
Joyce L. Vincent
Benjamin Joseph Weeks
Charles E. Wheatley
Elliott R. Wickline
Erica Lee Winter
Robin D. Womack
Thomas Michael Zeolla

Welcome
Nathan Edward Bowie
Craig Scott Cornish Jr.
Amanda Rose Gilroy
Airianne Lea Posey

White Plains
Bradley Phillip Bazzarre
Alicia Corinne Beale
Anna Marie Bonnet
Rohan R. Bucknor Sr.
Michele Denise Corley
Rachel Marie Eaby
Tyler Galen Iverson
Linda Jackson
Linzie Claire Johnson
Tiffany Marie Morris
Aysha Renik Powell
Stephanie Anne Price
Jing Xi Qin
Caetlyn Marie Roberts
Krystal Arlene VanBavel
Kelley Volpe
Abigail G. Worden

Prince George's County

Accokeek
Khadijah Ashakai Ali
Anthony L. Emshwiller

Bowie
Christopher Kyle Green

Brandywine
Kaitlin Allison Hudson
Paulina E. Schlor
Christopher D. Simpson

Cheltenham
Linysha Johnson

Clinton
Tiara E. Locke
Kiara Danielle Lucas
Rachel Elaine Miller
Gil Dean V. Quenano VI
Charles Ryan Windsor

Fort Washington
Catherine Michelle Reclosado
Rhonda G. Slater
Lauren Nicole Szymanski

Oxon Hill
Cynthia Joseph Abi-Fadel

Temple Hills
Ava Marie Lawson

Upper Marlboro
Calvin Jerrelle Mainor
Sara Paige Rawlings

St. Mary's County

Avenue
Caroline Marie Middleton
Amy Camille Sims
Candace N. Thompson
Michelle Kay Williams

Bushwood
Steven Matthew Oliver

California
Matthan T. Lee
Aaron A. Brewster
Margherita Brown
Ms. Laura E. Coontz
Patricia Famiglietti
Mark Anthony Daniel Johnson
Andrew James Macala
Jay Thomas Martin
Laura M. Mondro
Esther Lucie Ngounou
Holly L. Owens
Rhosheeda Aundreya Proctor
Katherine Marie Reyes
Stephanie Ann Scott
Nicholas Scott Spohnholtz
Julia Erin Tucker
Amanda J. Wedding

Callaway
Tiffani Monee Blackwell
Cody R. Blanton
Kia Renee Carter
Lacey Catherine Steckowski

Chaptico
Tammy Renee Flanagan

Charlotte Hall
Kylie Rose Biller
Holly Bowersox

Clements
Lindsey Brooke Clearwater

Dameron
Erin N. Wingo

Great Mills
Rebecca Lynn Badilla
Micah Loren Calloway
Charles Layne Cox
Catina M. Goldring
Jonathan Russell Griffith
Faith S. Hall
Heather Hoffman
Justine E. Karstens
Ashleigh Marie Minton
Jennifer Nichole Reese
Lakea LaShawn Stewart
Logan Lanier Thompson
Shirley Annaliza Tumang
Timothy C. Wagner
Mary Leslie Wills

Hollywood
Katie Lynn Heaton
Christina deVos
Anthony JaJuan Fenwick
Patrick Russell Hill
Darryl James Johnson
Randall P. Nelson
Sheryl Marie Pope
Phillip Anthony Samrow
Ana-Alecia Stauffer
Jessica L. Thompson
Eleshia Wible
Debra Williams

Leonardtown
Tanya J. Bronson
DeVonte' Marquis Carroll
Amanda Diane Feiser
Sarah L. Fitzgerald
Susan Marie Frazier
Sierra Noel Houghton
Janis Smith Jacobs
Deanna C. Kelly
Janet Sullivan Persson
Jordan Rio
Jonathan D. Shaner
Katherine Morgan Thompson
Mariah Christine Vaughan
Amanda J. Wedding
Ellen Elizabeth Whitmore

Lexington Park
Veronique Adams
Chris Scott Adkins
Shannon Alyce Boone
Michael Craig Branson
Jordan K. Bridgman
Natasha Lee Brown
Nicole M. Davis-Burks
W. Christopher Chisler
Sarah Katherine Coffey
Kathleen Coontz
Rosalyn A. Dickerson
Freida Antionette Lucas
Ashley V. Huffman
Tia Marie Vaughn
Andrew S. Kelly
Jessica Marie Kelp
Mary E. Kessler
Christine Marie Kodluboy
Martha Perla Kuntz
Sabrina Lynn Lemanski
Lawrence Edward Louden
Crystal Marie Valenton Mabanta
Ann Marie Madden
Lakeesha S. McKnight
Wanda Lowelyn Toledo Ocado
Feifei Peng
Lori Ann Puckett
Jeremy A. Shultz
Lyn Caldwell Stachyra
Charlie-Marie C. Stamm
Victoria Ing Taylor
Robert Boothe Vallandingham

Mechanicsville
Jenna M. Auman
Melissa Marie Burch
Gene Nathan Burch
Daniel R. Burroughs
Kaitlin Jo Cashman
Susan Eileen Corder
Brenda Lynn Dale
Wendy Marie Gavin
Tammy Marie Walls-Gilleland
Jessica Amber Grigg
Carl Wayne Hewitt
Tiffany Faye Hill
Rebecca Ann Johnson
Anthony Francis Kirby Jr.
Amanda Marie Kovacic
Toni Maria Zanelotti Kruszka
Jessica Ann LoSchiavo
Taryn Lowry
Cady Marie Merkle
Sandra L. Overby
Tammy Lynn Owen
Kristina Leigh Pagel
Samantha Pape
Kalley Elizabeth Peters
Caitlin Erlene Rowan
Dwight Savoy Jr.
Amy Mae Schofield
Brian J. Taylor
Nicole Lynn Thompson
Terri Leigh Bellere Thompson
Rebecca Michelle Williams
Samantha Marie Zanelotti

Ridge
Krystal Lynn Hughes
Justin Phillip Raley

Tall Timbers
Marge-Pauline C. Pelingon

Valley Lee
Jeff Janiszewski

Out of region

Bellevue, Texas
Stephanie Lynn Slayton

Boonsboro, Md.
Luke A. Hintze

Dahlgren, Va.
Brittney Rose Brennan

Gulfport, Miss.
Laura M. Goldsmith

King George, Va.
Jonathan Ulstein Crook
Robert P. Eaby, Jr.

Smithsburg, Md.
Susan Beth Bailey

Springfield, Mass.
Jamie M. Spaulding

Stockbridge, Ga.
Ramala Stansbury

Fpo Ap
Diana Salazar