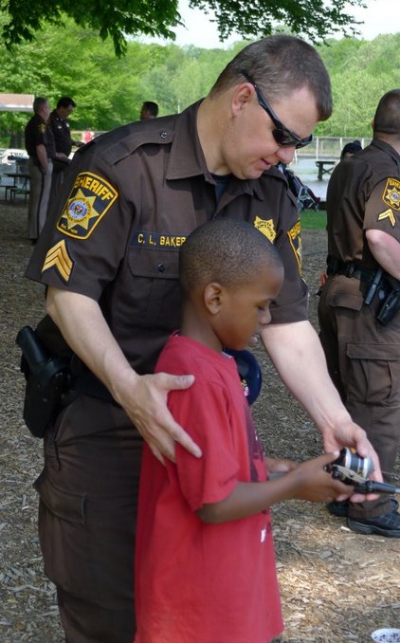 Sgt. Baker of the Sheriff's Office teaches an unidentified youth how to operate a fishing rod and reel at Gilbert Run Park. (Photo: CCSO)
LA PLATA, Md. (May 13, 2011) — A handful of Charles County Sheriff's police and correctional officers and Maryland State Police troopers took a break from catching bad guys to help a group of elementary school students catch fish as part of a field trip for special needs children to Gilbert Run Park in Charlotte Hall in May.
Thirty students who attend Walter J. Mitchell and Eva Turner elementary schools spent an hour fishing with the police officers, who taught them how to bait a hook, cast a line, wait patiently for a bite and reel in their catch. The handful of fish students caught were returned to the water. Following the fishing adventure, the students were treated to lunch and time at the park's play area.
"I love to fish and having the opportunity to share in that fun with such an exceptional group of children was a great experience for me and for all the officers who participated in this field trip," said Sheriff Rex Coffey, one of the event's volunteers. "I like to think each child got something special out of this event. We can all make a big difference in a child's life just by devoting a little time to them."
This is the second year the Sheriff's Office has participated in the event. For more photographs of the event, visit
http://somd.me/mMDG39
.