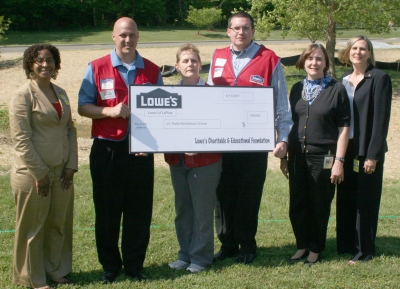 Staff from the La Plata Lowe's store present representatives for J.C. Parks Elementary School with a $100,000 Lowe's Charitable and Educational Foundation grant on May 11 to support the school's Nature in Education program. Pictured, from left, are Tynika Lytle, Parks vice principal, Mark Strenta, district manager of Lowe's in La Plata, Cheri Martin, commercial sales for Lowe's in La Plata, Matt Buchanan, La Plata Lowe's store manager, Deanna Wheeler, Parks science teacher, and Kristin Shields, Parks principal. (Submitted photo)
INDIAN HEAD, Md. (May 12, 2011) – Lowe's Charitable and Educational Foundation has awarded a $100,000 grant to J. C. Parks Elementary School for Education in Nature, a project to create outdoor learning areas within restored natural habitats.
The school, located in Indian Head, will use the grant to transform the front of the school into an arboretum with two outdoor classrooms tucked into a native landscape. Adjoining property, which is shared with Matthew Henson Middle School, will include an amphitheater and sitting areas overlooking a wetland habitat. A variety of learning opportunities are incorporated into the design of each accessible, sustainable and environmentally friendly space. The project has been a collaborative effort of the community, local organizations, county government, individuals, and the school system.
A check was presented to Charles County Public Schools officials and staff members at Parks by representatives from the Lowe's store in La Plata on Wednesday, May 11.
"Lowe's is committed to recognizing and supporting efforts that enrich the lives of our neighbors and customers," said Larry D. Stone, chairman of Lowe's Charitable and Educational Foundation, in a statement. "By supporting schools like J. C. Parks, we believe we are contributing to a cause that's important to our customers and employees and helping build a stronger foundation for the children who will be tomorrow's employees, homeowners and community leaders."
Since its inception in 1957, Lowe's Charitable and Educational Foundation has helped communities nationwide through employee volunteerism and financial contributions. In 2009, Lowe's and the Lowe's Charitable and Educational Foundation together contributed more than $30 million to support community and education projects in the United States and Canada.