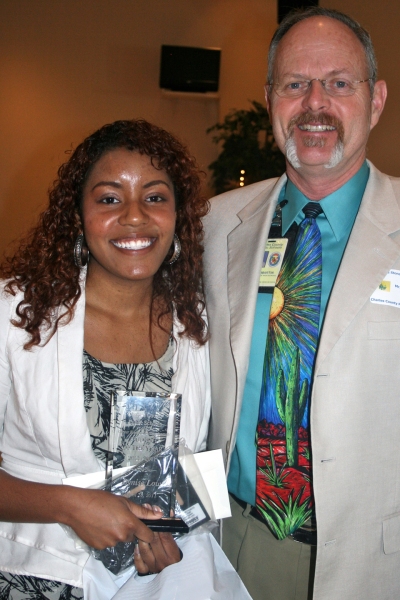 Lynise Low is congratulated by her supervisor, Thomas Stone High School Principal L.C. Martin for being named the 2011 Career and Research Development (CRD) Student of the Year for Charles County. (Submitted photo)
LA PLATA, Md. (May 5, 2011) — Lynise Low, a senior at Westlake High School, was named the Career Research and Development (CRD) Student of the Year for 2011 at the annual employer/employee breakfast.
Low worked in the office at Thomas Stone High School and was nominated for the award by Larry Martin, principal of Thomas Stone High School, and other school staff. She was selected following three levels of competition both at the school and county levels. Committees composed of staff members, community members and business representatives interviewed students.
"It's an amazing honor to win student of the year. I was extremely grateful when I won the student of the year at Westlake High School. I was just happy to represent Westlake at a student level and when I found out I had won for all of Charles County I can honestly say I couldn't have asked for more. Winning co-op student of the year and being able to be a part of this program has been a wonderful experience and I hope future students learn and enjoy it as much as I do," Low said.
Other award finalists are Joshua Hill, La Plata High School; Jeffrey Cusick, Henry E. Lackey High School; William Pike, Maurice J. McDonough High School; LaTanya Trojanowski, North Point High School; and Heather Johnson, Thomas Stone High School.
Employers and student employees gathered at the Greater Waldorf Jaycees Community Center on April 28 for the annual Charles County Public Schools Career Research and Development Employer-Employee Breakfast. CRD was formerly known as the Cooperative Education program.
"Lynise is a bright, inquisitive, energetic scholar who's determined to succeed regardless of the obstacles that may fall in her way. Lynise is always thinking one step ahead of the normal teen. Not only has she laid out a plan for her career, she has even developed an alternate route just in case she is side tracked. I admire a person who prudently plans for the future with the level of consistency, energy, and determination given the pressures that often frequent teenagers of this generation. Ms. Low definitely deserves to represent Westlake High School and Charles County as the 2011 CRD Student of the Year," said Apryl Gray, Career and Research Development Coordinator at Westlake.
The CRD program provides a bridge from school to work and provides classroom instruction along with work experience and on-the-job training related to a student's career goals. There are 352 students enrolled in the CRD program, 120 of whom are seniors.
Started in 1971 at La Plata and Lackey high schools, cooperative education expanded to Thomas Stone in 1972, and to McDonough in 1979. Westlake started offering the program in 1998. North Point launched the program in 2009 with its first senior class.
Source: Charles County Public Schools