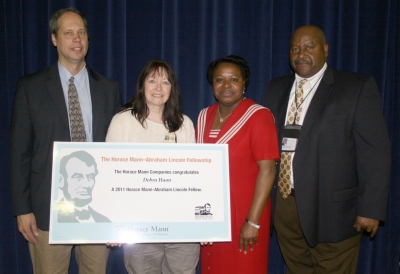 Arthur Middleton Elementary School Principal Greg Miller, left, Middleton Vice Principal Patricia Mooring, second from right, and Horace Mann insurance agent Robert McLeod, far right, congratulate Middleton physical education teacher Debra Haan, second from left, on receiving the 2011 Horace Mann Abraham Lincoln Fellowship. Haan is one of 50 educators nationwide selected to participate in the program, which provides teachers with a weeklong opportunity to study the life of Abraham Lincoln. (Submitted photo)
LA PLATA, Md. (May 5, 2011) — Debra Haan, a physical education teacher at Arthur Middleton Elementary School, was recently awarded one of 50 nationwide Horace Mann-Abraham Lincoln Fellowships. The fellowship offers educators the opportunity to study the life of Abraham Lincoln during a weeklong institute and participants are eligible to receive college credit.
Robert McLeod, a local agent with Horace Mann Insurance, surprised Haan with the announcement during a schoolwide assembly held at the school on Tuesday, May 3. Haan is the only recipient in Maryland to receive the fellowship and will travel to Springfield, Illinois this summer to study at the Abraham Lincoln Presidential Library and Museum.
Haan was shocked that she was selected as a finalists in the program. "I dress as Lincoln each year on his birthday and this is fourth time I entered this program. Lincoln has been a big part of my family. My dad loves to learn and read about Lincoln and this is a dream come true for my family," Haan said.
As part of the fellowship, Haan will tour various historic sites in Illinois including Lincoln's New Salem State Historic site, Lincoln's home and tomb and the Old State Capitol State Historic site. Past topics include Lincoln the lawyer, Lincoln the president, political cartoons in the classroom, Civil War medical practices and ghosts of the library.
The annual program is open to nationwide full-time teachers who teach students in grades kindergarten through 12. Applicants must submit a resume and answer essay questions, and are judged by a panel of educators for the final selection. The curriculum is geared toward teachers of students in elementary, middle and high school.
For more information on the program, visit
http://www.horacemann.com/teacher-lounge/fellowship-program
.
Source: Charles County Public Schools