Student Needs Your Vote to Win National Title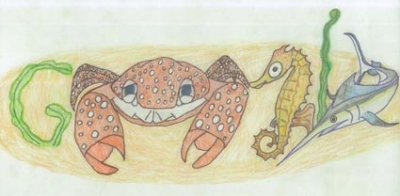 Evergreen Elementary School Third Grader Tyler Brown won first place in the Region 3, Grades K-3 class of Google's Doodle contest with his artwork, pictured above. National winners will be selected by online votes from the public.
LEONARDTOWN, Md. (May 4, 2011) — Tyler Brown, age 9 and a 3rd grade student at Evergreen Elementary School, was named as one of 40 regional finalists in Google's 2011
Doodle 4 Google
contest. Google representatives held an assembly and press conference Wednesday afternoon in front of the student body of Evergreen to make the announcement. This is the second year of the contest where Google representatives have traveled to the winner's schools.
There were more than 107,000 submissions this year, a record number, according to Marissa Mayer, V.P., Google Product Management.
The 40 regional finalists were chosen by the Google doodle team, volunteer "Googlers," and several
guest judges
, according to Mayer. Guest judges included notable names such as actress Whoopi Goldberg; Jim Davis, creator of the Garfield comic strip; Nicole Stott, NASA Astronaut; and Paul Tibbitt, executive producer of SpongeBob SquarePants.
As a regional winner, Tyler wins a trip to the Google New York office for an event held May 19, a t-shirt printed with his doodle on it, and his doodle is displayed in a special exhibit at the Whitney Museum of American Art in New York City.
Tyler's doodle also moves forward into the next phase of the contest where it will compete for the title of National Finalist (1 per grade group for a total of 4) and National Winner (1 of the 4 finalists). The winners, to be announced on May 19, will be selected based on public online voting taking place now through 5:00 p.m., Friday, May 13.
Evergreen Elementary will benefit from an educational grant of $5,000 or a technology grant of $25,000 if his design is the National Finalist or National Winner respectively.
To place a vote for Tyler's design, visit
google.com/doodle4google/vote.html#d=d1-3
.