LEONARDTOWN, Md. (April 28, 2011)—The St. Mary's County Sheriff's Office today released the following incident and arrest reports.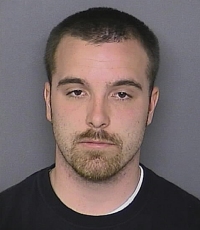 SECOND DEGREE ASSAULT: On April 26, deputies responded to a residence on Brown Road in Hollywood for a report of a disturbance. Investigation revealed Joshua Daniel Dotson, 23 of Hollywood, was engaged in a verbal dispute which escalated into a physical assault when Dotson grabbed the victim around the neck and threw her to the floor. Dotson was arrested and charged with second degree assault.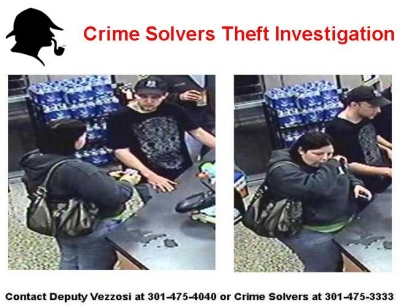 CRIME SOLVERS THEFT INVESTIGATION: The Sheriff's Office is investigating a theft from motor vehicle which occurred on April 19. A credit card was stolen from the vehicle and then used by these two individuals at the Wawa in California on April 20. Anyone who can identity of these suspects or has information concerning this crime is asked to contact Deputy Vezzosi at 301-475-4040 or Crime Solvers at 301-475-3333. Tipsters can also text their tips in to "TIP239" plus your message to "CRIMES" (274637). Callers and tipsters do not have to leave a name, just the information. If the information leads to the arrest and conviction, the caller/tipster may be eligible for a cash reward of up to $1,000.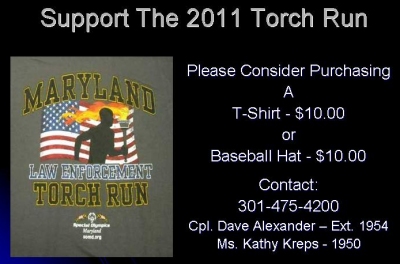 SUPPORT THE TORCH RUN: Please support the 2011 Law Enforcement Officer's Torch Run for Special Olympics by purchasing a t-shirt or baseball hat. A picture of the front of the T-Shirt is shown above. All proceeds benefit the Maryland Special Olympics. T-Shirts and hats are $10.00 each. Please contact either Cpl. David Alexander on 301-475-4200 Ext. 1954 or Ms. Kathy Kreps on 301-475-4200 Ext. 1954.