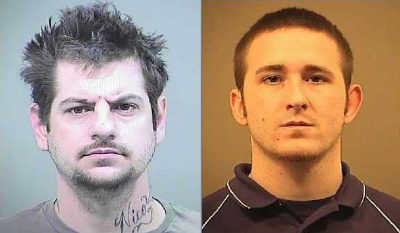 Jody Sanna (left) and Marcus Cannon were both arrested in connection with the armed robbery of St. John's Pharmacy in Hollywood Tuesday. (Arrest photos)
LEONARDTOWN, Md. (April 27, 2011) — Two Charles County men are behind bars after being arrested in connection with Tuesday's armed robbery at St. John's Pharmacy in Hollywood.
Employees of the pharmacy told police that a white male entered the business before 11:00 a.m., approached the pharmacy, implied he was armed, and demanded several bottles of prescription medication containing Percocet and Oxycodone. The pharmacist complied and the subject fled from the business on foot.
Responding police observed a man matching the description of a suspect attempting to hide in a ditch along Three Notch Road. Following a short foot chase, Jody Thorne Sanna, age 31, of Indian Head, was apprehended. Sanna was charged with armed robbery and robbery. He is incarcerated in the St. Mary's County Detention Center under a $45,000 bond.
Detectives from the Bureau of Criminal Investigations assumed the investigation and quickly identified a second suspect involved in the robbery. A search warrant was obtained and the second suspect, Marcus Paul Cannon, age 23, of Hughesville, was apprehended in White Plains without incident. Cannon was charged with robbery and is also incarcerated in the detention center under a $15,000 bond.