Commentary by Ron Miller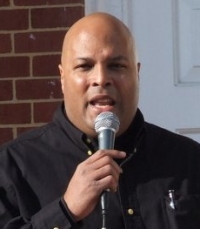 As I was making preparations yesterday for my trip to Dallas to attend a conference, my wife said to me, "If any of those rich people down in Texas offer you a job, I'll move."
I was a little surprised to hear her say that, but not completely. The hints have been coming for some time now - "there's really nothing to hold us here after Colin [our son] graduates," or "I hope you're looking at other places for jobs, not just Maryland."
That's a far cry from when we first moved here. We had just purchased a beautiful home in a rural county with a high quality of life, low crime, great schools and within driving distance of job-rich Washington, DC. We found a church right away and we've never thought of going anywhere else since we've been here. Our church home group is like family - no, it IS family - and we can't imagine life without them. My best friend, dating back to my U.S. Air Force days, lives nearby with his family.
My wife said then, "There's no job anywhere else that you can't find here, so I see no reason to move." That was just under a decade ago.
Times have changed, however, with three layoffs in my past, no great demand for former federal senior executives with high salary requirements, and me working harder to make less as a non-profit executive and self-employed consultant, opinion columnist, speaker and author.
Even so, I still love living in southern Maryland, and I am passionate about my church and the people there.
Annik, as always, is looking at more practical matters, as are families across Maryland. Frankly, it's expensive to live here.
Consider the story of Steve and Holly Zegalia of St. Leonard. Their family profile is typical of our southern Maryland commuter community. He works for the federal government, while she works from home. They have two small children. Holly Zegalia recently
spoke to a reporter
about moving to North Carolina to escape Maryland's high state and local taxes:
"If we could sell our house, we'd move out of Maryland. It's outrageous what we are paying," Zegalia said of her $2,440 property levy in the rural community of St. Leonard, on the bay's western shore. "We've been living in this house almost nine years. And in the 10 years that it's been built - we bought it right after it was built - the property taxes on this house have more than doubled."
That's our story, too. Our house was 45 days from completion when we put an offer on it, and August 13th will mark our ten-year anniversary - we moved in on a rainy afternoon on August 13, 2001. We've never lived this long in the same house, or in the same community. Our house peaked in value about the middle of the decade, but it's probably lost about $100,000 - $150,000 of its market value since then, making it impractical to put it up for sale. That's not what our tax bill says, however.
It's more than just property taxes. We moved here from Florida, and Annik noticed right away that the price of food was higher here. Our grocery bill increased by at least a third. The commute into DC and the gas that took, and the expense that came with establishing our sixth household in twelve years, added to the costs. That made the impact of losing my job that much greater.
Of course, it seems like every time the General Assembly is in session, taxes go up. The sales tax increase in 2007 hurt Marylanders at all levels of income, and they just passed a whole list of new taxes, including an $85 million alcohol sales tax increase, and "fees," which Governor Ehrlich said weren't taxes and O'Malley campaigned against them, saying they really were taxes and, now that he's in office, they aren't taxes anymore -
got that
?
The future doesn't look any brighter,
according to columnist Blair Lee
:
Because this year's budget only reduces the structural deficit 40 percent, and because the state's reserve fund is now at a record low $50 million, all signs point to using the October special session programmed for redrawing congressional boundaries as an opportunity to raise new revenues as well. If gas prices fall, count on a 10 cents-a-gallon gas tax increase, which will also be indexed to inflation (automatic future gas hikes).

Once this is done, O'Malley and the Democrats will have hit the liberal trifecta - in only four years a boost in every state tax: personal income, corporate income, sales, cigarette, booze, vehicles, hospitals, bus/rail fares, bridge /road tolls, tuition, pension and health care contributions, and millions in assorted fees (called taxes when levied by Republicans).
We already know the state lost $1 billion of its net tax base due to its ill-advised "millionaire's tax," which was allowed to expire in December. With lower tax states like Virginia, Florida, Texas and North Carolina beckoning, those with the means to move, and the resources to either get a decent deal on their house or absorb the loss, have nothing to hold them here.
The funny thing for me personally is that all the laws being proposed or passed that go against my values, and those of many moderate and conservative Marylanders, aren't enough to chase me away. If it were just about that, my inclination is to stand my ground and fight the good fight for what I believe to be true.
If we do eventually move, it won't be because we don't love it here, or that the state has become a laboratory for every liberal idea on the horizon, no matter how far-fetched. It would take a combination of intense financial pressures here and an amazing opportunity elsewhere to make us move. Until then, I'll be right here - "same Bat time, same Bat channel!"
Ron Miller of Huntingtown, Maryland is a conservative writer and commentator, and author of SELLOUT: Musings From Uncle Tom's Porch. He is the president of Regular Folks United, which promotes and defends individual liberty, and president of the Frederick Douglass Foundation of Maryland, the state chapter of the nation's preeminent organization of Christian black Republicans. The nine-year plus veteran of the U.S. Air Force and married father of three writes columns for numerous online sites and print publications, and his own website, TeamRonMiller.com. Join him on Facebook andTwitter.