By NSWCDD PAO Office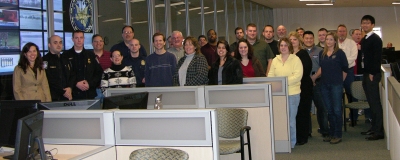 As the architects of the OIC's technology backbone, NSWCDD experts worked with CBP personnel to define requirements, and successfully designed and developed an open-architecture base system. (Submitted photo)
DAHLGREN, Va. (April 26, 2011) — U.S. Customs and Border Protection now has one more resource for combating illegal trafficking in support of border security, thanks to a collaborative effort to develop the new state-of-the-art Operational Integration Center (OIC), located on Selfridge Air National Guard base (ANGB) near Detroit, Michigan.
The OIC is a demonstration project designed and developed through a collaboration of federal agencies and activities Together they are building an advanced system that will greatly enhance the ability to detect and deter illegal entry, smuggling activity, human trafficking, and terrorism along the Canadian border. The OIC will assist in developing tactics, techniques and procedures (TTPs) to improve collaboration.
The new OIC, which officially opened on 24 March, will be used to coordinate security efforts among participating federal, state, local, tribal, and Canadian law enforcement and security partners, allowing multiple agencies to have personnel in the same building with access to their own agency's networks and resources, as well as the use of a common Collaboration Network.
Customs and Border Protection (CBP) is the unified agency within the Department of Homeland Security charged with the management, control and protection of our nation's borders at and between the official ports of entry.
Since May of 2009, the Naval Surface Warfare Center Dahlgren Division (NSWCDD) has served as the Technical Design Agent (TDA) for the Northern Border Integration Demonstration (NBID) OIC under an agreement with CBP Office of Technology Innovation and Acquisition (OTIA). As the architects of the OIC's technology backbone, NSWCDD experts worked with CBP to define requirements, and successfully designed and developed an open-architecture base system. "By utilizing both commercial off-the-shelf (COTS) and government off-the-shelf (GOTS) elements, government technical experts were able to establish an architecture that is scalable, maintainable and reliable," Dahlgren Warfare and Control Systems Department Head, Jim Wolfe said. "This will enable the CPB Program Manager to maintain in-house system architecture expertise and control and use the best and most cost-effective private industry organizations to acquire system components."
NSWCDD is responsible for system integration at the center, development of the Collaboration Network, and overseeing the installation of equipment and associated networks. NSWCDD will provide ongoing support and upgrades to address emerging needs.
The Navy team was able to design and develop the facility in less time and at a lower cost by using previously approved equipment and the existing complex systems integration expertise at NSWCDD. Moreover, the facilities, hardware, and software were designed for flexibility to easily allow future adaptations and enhancements.
According to Navy civilian program lead, Robert Dibble, "Much of what we are doing for NBID is directly applicable to problems we are seeing in Afghanistan." Dibble is enthusiastic about the collaboration with CBP and opportunity it provides. "It's really great hands-on work for our people and allows us to make effective use of our resources here at home as well as overseas."
Dibble explained that the Navy's support was itself a collaboration across NSWCDD, where a wide range of experts provided solutions that made the 22-month, rapid deployment possible. NSWCDD's Engagement Systems Department provided system architecture support, systems engineering, and project management. The Strategic and Weapons Control Systems Department was responsible for architecture, software development, and system integration; the Electromagnetic and Sensor Systems Department worked on sensor integration and electromagnetic issues; the Warfare Systems Department provided training and human factors analysis; and the Asymmetric Systems Department provided support for the Geographical Information System (GIS).
The OIC covers the United States (US)-Canada border in the Great Lakes region. The OIC will function as a hub, integrating information from multiple agency sources, including remote video surveillance systems (RVSS); mobile surveillance systems (MSS); video feeds from Ports of Entry (POE), tunnels, and other traffic feeds as available; surface radar; and unmanned ground sensors, into a common situational display available to all participants.
Agencies expected to participate in the OIC demonstration project include the US Coast Guard (USCG), CBP, other federal law enforcement agencies, Canadian law enforcement at the national and provincial level, as well as state and local police and emergency management agencies. Within CBP, the Office of Border Patrol (OBP), Office of Field Operations (OFO), Office of Air and Marine (OAM) will participate.
The Navy's support of the NBID OIC demonstrates the benefits of collaboration and of seizing opportunities for technology transfer among agencies. "It's great to apply our strengths from DoD to help build new capabilities for other agencies," said Dibble.