LEONARDTOWN, Md. (April 6, 2011)—The St. Mary's County Sheriff's Office today released the following incident and arrest reports.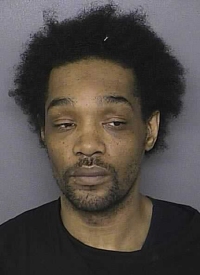 WARRANT ARREST, DRUG ARREST: Kevin Wendell Barnes, 42, of no fixed address, pictured at left, had outstanding non-support warrants for his arrest in St. Mary's and Calvert County. On April 4, the sheriff's office received information Barnes was traveling in a taxi cab in the area of Great Mills Road and Chancellor's Run Road in Lexington Park. Deputies responded to the area and located the taxi cab. Deputies initiated a traffic stop on the cab in order to make contact with and arrest Barnes. As the cab came to a stop Barnes exited the cab and fled into a wooded area. Deputies set up a perimeter. A short time later Barnes was stopped by deputies as he attempted to exit the woods along Great Mills Road. Barnes attempted to flee again. As he was running he threw a cigarette box onto ground. Barnes was apprehended and secured. Deputies retrieved the cigarette box which contained suspected crack cocaine. A search of Barnes' person incident to the arrest also revealed Barnes to be in possession of suspected marijuana and a digital scale containing suspect cocaine residue. Barnes was served the outstanding warrants and charged additionally with one count of possession of marijuana, two counts of possession of cocaine and one count of possession of controlled dangerous substance paraphernalia.
SECOND DEGREE ASSAULT: On April 4, deputies responded to Megan Lane in Leonardtown for a report of an assault in progress. Investigation revealed Florence Eva Moore, 43, of Leonardtown, was engaged in a verbal dispute which escalated into a physical assault when Moore struck the victim in the face. Moore was arrested and charged with second degree assault.
FRAUDULENT PRESCRIPTIONS: Craig Michael Ringler, 29, was arrested and served an indictment in connection with fraudulent prescriptions.