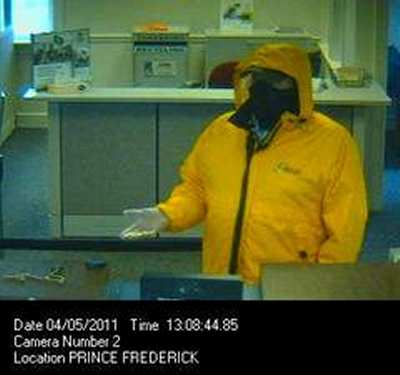 Surveillance photo of the robber at M&T Band in Prince Frederick.
Additional photos are posted on our Yfrog page
.
PRINCE FREDERICK, Md. (April 5, 2011 1:48 p.m.) — The M & T Bank in Prince Frederick was robbed at 1:11 p.m. today by a white male, according to police in Calvert County.
The suspect is described as 5'9" to 6' tall, 225 to 250 pounds, and was last seen wearing a yellow hooded sweatshirt (hoodie), black ski mask, and a grayish/green ball cap.
Police say if the man is spotted, do not attempt to approach him; call 911. Detective Sciana Roach is the lead investigator: 410-535-1600 x2455.
Calvert County Public Schools released the following bulletin at 3:22 p.m.:

Based on information that we have received from Law Enforcement, schools and offices in the Prince Frederick area will resume regular activities, including the transporting of students home. Schools remain on heightened alert.
Updates will be posted here as they come in.