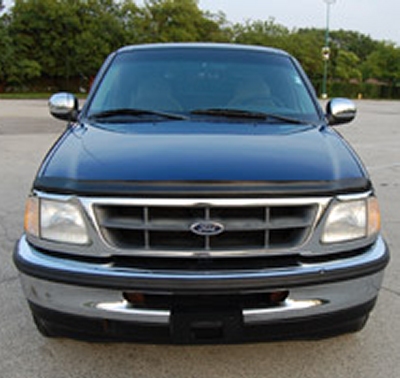 Police are looking for a late 90's Ford full-size truck or Expedition with front grill and passenger-side headlight damage. This photo is of the front-end of a similar vehicle, not the actual vehicle being sought.
LA PLATA, Md. (March 28, 2011) —
Darrel Gene Sallie
, 57, of La Plata, was struck and killed by a hit and run driver last Friday as he walked along the shoulder of Maryland Route 6 at Perry Road in La Plata.
Police were alerted by a 911 call from a citizen at 11:04 that morning. Maryland State Police and Charles County Sheriff's officers responded and discovered Mr. Sallie lying on the shoulder. He was pronounced deceased at the scene and next of kin were notified.
Police determined that Mr. Sallie was killed as a result of being struck by an unknown vehicle which was traveling westbound on Rt 6 east of Perry Road. Police say the vehicle travelled off the roadway and hit Mr. Sallie on the shoulder. The driver failed to remain at the scene and report the collision.
Police have not determined the exact time the collision occurred.
Police are looking for a late 90's Ford full-size truck or Expedition with front grill damage as the suspect vehicle. Police say the grill (see photo of a similar vehicle at the top of the page) will be all grey and damaged in the center and passenger side headlight area.
Anyone with information that will assist with the investigation is asked to call the Maryland State Police, La Plata Barrack, at 301-392-1201. If you wish to remain anonymous you can call Crime Solvers at 1-866-411-TIPS (8477). Crime Solvers offers rewards of up to $1,000 for information that leads to the arrest or indictment of a person involved in criminal activity. The Crime Solvers Board of Directors, comprised of citizen volunteers, determines the value of the information based on each case.
Trooper N. Iannucci and TFC. J. Zimmerman of the Maryland State Police are handling the Investigation.