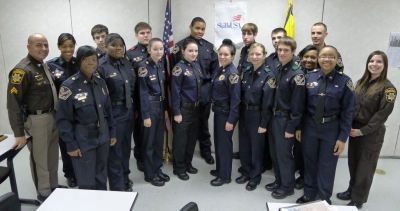 Pictured from left to right are: (Back Row) Cpl. Rhett Calloway, Keyawana Griffith, Brandon Morrison, Rick Pickeral, Dominique Wilson, Tyler Jenkins, Brandon Fournier and Chris Cleaveland; (Front Row) Samantha Peoples, Elizabeth Burgess, Jessica Sweeney, Katie Collins, Angela Thompson, Kendall McMillen, Nick Briggs, Jania Osborne, Brandi Thomas and Evidence Technician Shelly Progovitz. (Submitted photo) [ Click image for larger rendition ]
LA PLATA, Md. (March 24, 2011) — When North Point High School Senior Keyawna Griffith conducts a traffic stop, searches a room for bad guys and evidence, or responds to a loud-music complaint, she not only does the job – she does it well. When she handled these situations at the Feb. 5 SkillsUSA regional competition hosted by her high school, judges awarded her third place and advanced her to the state competition being held March 26.
Griffith was among five North Point students enrolled in the Criminal Justice Program to participate in the competition's individual category. Additionally, three three-man North Point teams competed in the event's Crime Scene Investigation segment. The class's instructor, Cpl. Calloway of the Charles County Sheriff's Office, was impressed by their effort.
"We learn a lot about police work in the criminal justice class and it makes me really proud to see our SkillsUSA team to put that classwork into action," Cpl. Calloway said. "They worked really hard and I'm glad they had the chance to put their skills on display in front of their peers from other counties."
Seniors Tyler Jenkins, Chris Cleaveland and Jania Osborne and Junior Brandon Morrison participated in the individual portion of the competition along with Griffith. The CSI teams included: Seniors Katie Collins, Samantha Peoples and Angela Thompson; Juniors Kendall McMillen, Nick Briggs and Brandi Thomas; and Junior Dominique Wilson and Sophomores Elizabeth Burgess and Jessica Sweeney. The CSI teams sketched and photographed the crime scene, collected evidence, dusted for fingerprints, fingerprinted suspects and analyzed the prints for a match.
Not only did the competitors train for the regional contest but so too did two alternates — Rick Pickeral and Brandon Fournier — and a handful of other students who are considering participating in next year's competition. "I was really excited by the amount of people who wanted to come out for this," said Cpl. Calloway. "Seeing so many kids motivated enough to practice outside of their usual classroom hours shows they have a lot of promise, especially if they want to be police officers."
In the months leading to the competition, Cpl. Calloway taught the competitors about responding to and investigating crimes and Shelly Progovitz, an evidence technician assigned to the Sheriff's Office's Forensic Science Unit, provided the CSI training.
"Shelly made time to teach these kids about crime-scene processing and about how CSI works in the real world. She deserves a lot of credit for the time and effort she gave our students," Cpl. Calloway said.
According to its website, SkillsUSA is a partnership of students, teachers and industry representatives working together to ensure America has a skilled workforce. It is a national non-profit organization serving teachers and high school and college students who are preparing for careers in trade, technical and skilled service occupations like law enforcement, healthcare, culinary arts and welding.
Source: Charles County Sheriff's Office