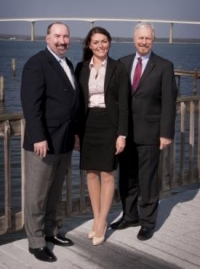 Don Parsons (left) is welcomed to the team by Lacey Cochran, Commercial Lender, Calvert County and Greg Cockerham, Chief Lending Officer. (PRNewsFoto/ Community Bank of Tri-County, Irving Harris)
WALDORF, Md. (March 24, 2011) — Community Bank of Tri-County announced that Donald Parsons, Jr. has joined the bank as Vice President and Senior Commercial Lender for Calvert County. Parsons brings with him over 15 years of banking experience, serving as a Senior Vice President and Senior Loan Officer with Mercantile Southern Maryland Bank and its predecessor Calvert Bank and Trust. Parsons is a graduate of Shepherd University and he received his Master of Business Administration from The Sellinger School of Business at Loyola College.
"Don has been a resident of Calvert County for many years and is actively involved in his community. His ideals, work ethic, and dedication to Southern Maryland closely match the Culture of Excellence here at Community Bank," said Greg Cockerham, Executive Vice President and Chief Lending Officer in a statement. "Don is a proven leader that understands the many challenges and opportunities present in the banking industry. I am delighted to welcome him to our team."
Community Bank of Tri-County is the oldest independent financial institution headquartered in Southern Maryland with ten branches and over $863 million in assets, according to bank officials. Community Bank of Tri-County branches are located throughout Calvert, Charles and St. Mary's counties.