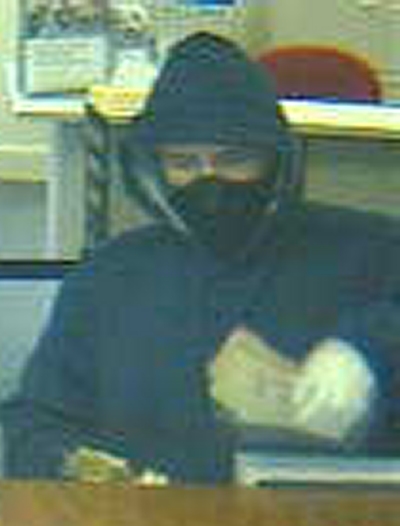 Bank surveillance photo of the bank robber. See additional photos posted in the reader comments section at the bottom of this article.
PRINCE FREDERICK, Md. (March 23, 2011) — The M&T Bank, located in Prince Frederick, was robbed today at approximately 2:03 p.m. Police say the suspect — a white male, heavy set, and approximately 6' 5" — was wearing blue jeans, a blue hooded sweatshirt, and black mask. He was possibly driving a small white passenger car with a sunroof.
The suspect entered the bank carrying what appears from surveillance photos to be a long-barrel shotgun.
The following public schools were placed in lock-down as a safety precaution: Calvert High, Calvert Middle, Calvert Elementary, Career and Technology Academy, Calvert Country School and Barstow Elementary. School officials subsequently announced that they were resuming normal activities, including transporting students home for the day. They were remaining on high alert.
Police are asking anyone with information about the robbery, or identity of the suspect, to call Lt. Steve Jones at 410-535-2800.