LEONARDTOWN, Md. (March 18, 2011)—The St. Mary's County Sheriff's Office released the following incident and arrest reports.
ASSAULT: On March 16, Dfc Anthony Whipkey responded to the intersection of Eric and Marshall Blvd in Lexington Park for a fight. Upon arrival, Dfc Whipkey learned Elrico Coujuan Solomon, 19, of Lexington Park, assaulted a 20-year-old male victim. Solomon, who was intoxicated, was arrested and charged with second degree assault.
DRUG ARREST: On March 17 at approximately 11:22 pm, Dfc William Rishel and Deputy Glenn Knott investigated an occupied vehicle which was located in the parking lot of Great Mills High School. Upon contacting Andrew N. Herns, 3rd, who was seated in the passenger seat, officers detected the odor of burnt marijuana. A subsequent search resulted in the recovery of suspected marijuana and paraphernalia. Andrew Herns was arrested and charged with Possession of Marijuana and Possession of Drug Paraphernalia. He was released to the custody of the St. Mary's County Detention Center pending an appearance before the District Court Commissioner.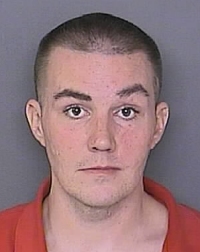 DRUG ARREST: Vice narcotics detectives conducted a several month long joint investigation with the Calvert County Sheriff's Office Narcotics division into Suspect Claude Richard Carpenter, II, age 29, of Lusby, pictured at left. Suspect Carpenter was passing counterfeit prescriptions at various locations throughout St. Mary's County and obtaining Oxycodone. He was subsequently indicted. Detectives located Suspect Carpenter and placed him under arrest. A computer hard drive was recovered as well as a paper cutter believed to be used in the creation of the false prescriptions. Suspect Carpenter was originally held without bond and additional charges are expected.