Deputy Receives 2010 Lifesaver Award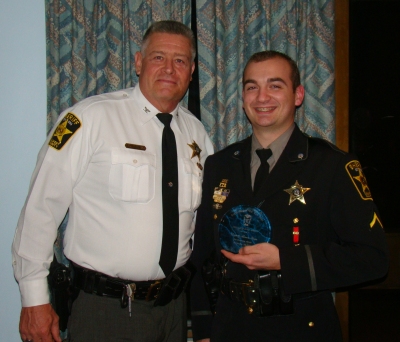 Sheriff Mike Evans (left) and DFC Roscoe Kreps.
DFC Roscoe Kreps was recently awarded with the 2010 Lifesaver Award by the North Beach Volunteer Fire Department for his actions on October 26, 2010 at 6 o'clock in the morning. Company 1 had been alerted to a suicide attempt occurring on 4th Street.
DFC Kreps arrived on the scene first and found a male in his early 40's sitting in a van with a hose extending from the gas pipe into the vehicle. The man had no pulse and was not breathing. Deputy Kreps removed the man from the vehicle and performed CPR until EMS from Company 1 arrived. The man was transported to Calvert Memorial Hospital and regained a pulse and a blood pressure.
Girl Scout Troop Donates Toy Bears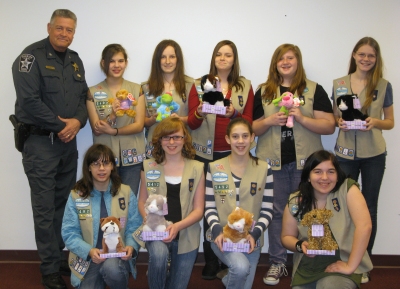 Pictured Front Row, Left to Right: Margaret Fletcher, Sage Larson, Caroline Fletcher, Anna Gorenflo. Pictured Back Row, Left to Right: Sheriff Evans, Elizabeth Fletcher, Kyla Nauman, Ashley Terry, Mollie Mace. and Maggie Saunders.
Sheriff Mike Evans met with Girl Scout Troop #5492 at the Mt. Harmony United Methodist Church in Owings on Tuesday, February 22, so that the troop could present the Sheriff's Office with stuffed animals they collected. The Sheriff's Office is appreciative of each of the girl scouts' efforts in collecting the toys, which are used to comfort children the deputies may come in contact with during their duties. Sheriff Evans also assisted the scouts with some requirement questions for the Girl Scout Law & Order Badge.
Annual Awards Banquet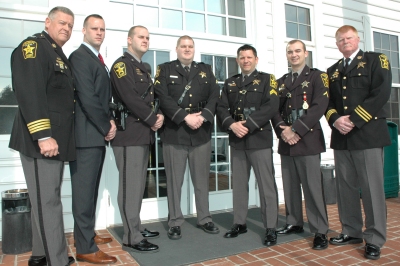 Sheriff Evans, Det. N. DeFelice (State's Attorney's Office Detective of the Year), Dep. J. Norton (Deputy of the Year), DFC K. Hall (Beach Dep. of the Year), Cpl. T. Smith (Supervisor of the Year), DFC R. Kreps (State's Attorney's Office Deputy of the Year), Lt. Col. T. Hejl.
The annual Calvert County Sheriff's Office Awards Banquet was recently held at the County Fairgrounds. Numerous deputies and correctional officers were recognized with awards for their exemplary service to the Sheriff's Office as well as to the State's Attorney's Office.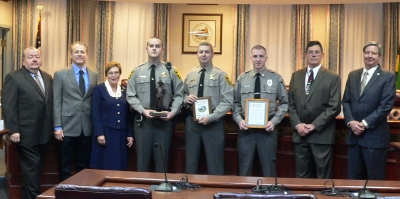 County Commissioners Clark, Weems, and Shaw; Dep. J. Norton (Dep. of the Year), Dep. M. Economes (Rookie of the Year), CO C. Gray (Correctional Officer of the Year), Comm. Nutter and Comm. Slaughenhoupt.
This year, the State's Attorney's Office recognized Det. N. DeFelice with Detective of the Year for handling a high volume of cases on which he conducted thorough and detail oriented investigations. They also honored DFC R. Kreps for his excellent case and trial preparation.
The Sheriff honored Dep. J. Norton for his high volume of traffic violation stops and drug arrests.
Two detectives with the Calvert Investigative Team Drug Investigation Unit were recognized for their lengthy investigation into and ultimate arrest of a major drug kingpin in the county.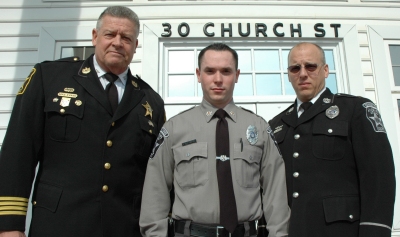 Sheriff Evans, CO R. Whittington (Rookie Correctional Officer of the Year), and Jail Administrator Major T. Reece.
Correctional Officer R. Whittington was awarded Rookie of the Year for his quick adaptability in managing the inmate population with intelligence, maturity and commitment to high performance.