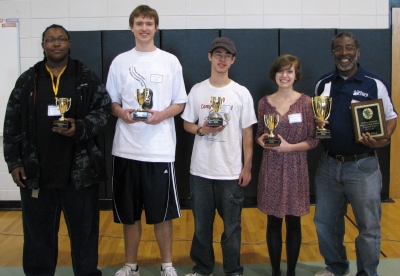 La Plata High School took first place in the Southern Maryland Regional High School Computer Bowl. Pictured from left are team members Geordan Lane, Matt Koontz, Alex Smith, and Alexandria Bendebba, and coach Richard Williams. (submitted photo)
HUGHESVILLE, Md. (March 15, 2011) — Ninety-six young computer experts participated in a contest of knowledge and skill during the 22nd Annual Southern Maryland Regional Computer Bowl, held March 5 at Theodore G. Davis Middle School in Waldorf. Sponsors for the Computer Bowl are Southern Maryland Electric Cooperative, the College of Southern Maryland, Booz Allen Hamilton, and the public school systems of Calvert, Charles, and St. Mary's counties.
Twenty-four teams from 12 high schools in Southern Maryland faced the challenging literacy and programming tests in the Computer Bowl. In the first round of the competition, students took a written test of their computer literacy. In the second round, teams of three to four students created computer programs to solve specific problems, using programming languages such as Java and Visual BASIC. Charles County Public Schools equips each team with two laptops for the programming portion of the competition.
La Plata High School won first place with team members Alexandria Bendebba, Matt Koontz, Geordan Lane, and Alex Smith, coached by Richard Williams. Northern High School placed second, with members Tim Bohannon, Eddie Crouch, Kyle Sherbert, and Kyle Siefring, coached by Eric Stroh. North Point High School placed third, with team members Bryn Alston, Sean Danek, Ian England, and Thomas Watts, and coached by Joe Greenawalt. Patuxent High School won fourth place, with Jordan Goldstein, Nicholas Mosquera, Jennifer Nordquist, and Aaron Sherrin, coached by Blaine Mably.
Winners received plaques and trophies. System Planning Corporation awarded water bottles to the winning team members, and Charles County Technology Council gave each of them hats. The College of Southern Maryland awarded the four first-place winners with $500 scholarships, and Booz Allen Hamilton awarded them with an Apple iPod Touch.
Employees from Booz Allen Hamilton who served as judges for the competition were Carrie Dalton, Remington Dechene, Sharon Essick, Patti Farraer, Cristina Jantzen, Chad Kilgore, and Doug Sanborn. Joe Burgin from the College of Southern Maryland, Mark Czajka from the Charles County Technology Council, Karen Lusk of ManTech, Sam Young of Naval Air Systems Command, and Catherine Wood of System Planning Corporation also served as judges. Jackie Jacobs from Calvert County Public Schools and Lora Bennett and John Stine from Charles County Public Schools also assisted with judging.
George Matisick, a community volunteer who is retired from St. Mary's County Public Schools and served as an integral part of the program's success announced his retirement from the program. Matisick has assisted with developing the test and programming questions for the past 22 years.
Source: SMECO