With the Help of School Officer, Piccowaxen Students "Dare for Dalton"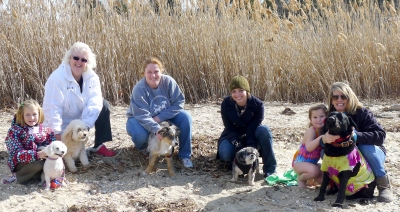 Dogs for Dalton and their human companions celebrate the fundraiser's success. (Submitted photo) More photos available on the
sheriff's office's Facebook page
.
LA PLATA, Md. (March 14, 2011) — When more than two-dozen Piccowaxen Middle School students, a few adults and even some dogs went swimming off the shore behind Commissioner Ken Robinson's home in Swan Point on February 20, it certainly wasn't because the chill in the air lent itself to a day at the beach. Instead, the brave but enthusiastic swimmers were participating in Dare for Dalton, a fundraiser coordinated by Piccowaxen 8th grader Libby Exline and Charles County Sheriff's Office Cpl. Gary Holt of the School Resource Unit to raise money for Libby's classmate Dalton Carver, a 7th grader recently diagnosed with a rare and fast-growing form of cancer called nonrhabdomyl sarcoma.
Libby had the idea for a Polar Bear Plunge-style fundraiser after learning of Dalton's diagnosis and went to Cpl. Holt for help in coordinating the event. Soon after — and in true Charles County fashion — others in the community got on board: Commissioner Robinson offered the use of his backyard; the Swan Point Citizen Association volunteered to collect money; the Swan Point Clubhouse volunteered to provide hot chocolate and other refreshments to the participants; and the Cobb Island Volunteer Fire Department offered the services of their Ice Rescue Specialists and medical personnel to ensure the participants' safety. The Cobb Island Fire Department and EMS, the Sheriff's Office and the Charles County Department of Emergency Services provided boat crews for the event.
As a result of Libby's idea, the participants raised more than $3,000 to assist the Carver family with Dalton's medical expenses. "Libby is definitely a caring and compassionate student. It is amazing what she has done in the spirit of helping others," said Kenneth Schroeck, principal of Piccowaxen Middle School.
"Being diagnosed with any form of cancer is a scary experience, especially for a young boy like Dalton. Fortunately it's not an experience he's going to face alone," said Charles County Sheriff Rex Coffey. "Cpl. Holt and the students at Piccowaxen raise a lot of money for good causes in our community but this fundraiser is particularly close to their hearts and I am very proud of their efforts. I will never cease to be amazed by their compassion, selflessness and success and I will continue to pray for Dalton and his family."
"My wife, Sheryl, and I could not think of a more meaningful way to open up our property. It's a wonderful commitment what the friends of Dalton have done, and it just shows what a caring community Swan Point is at every generation level," said Commissioner Robinson.
After the swimmers made their way back to shore where warm towels, hot chocolate and hugs were waiting, a pack of furry friends formed an impromptu Dogs for Dalton plunge of their own to help support their new human friend. Diesel, the biggest of the bunch, wore a specially made T-shirt and took the biggest plunge while others more timidly dipped paws or tongues in the water in support of Dalton and his friends.
To view more photographs from the event, visit
www.facebook.com/ccsomd
, the Charles County Sheriff's Office's official Facebook page.
Source: Charles County Sheriff's Office