Timing, Precision and Performance Mastered for Membership in Elite Unit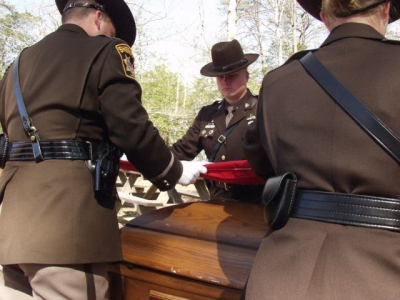 Members of the Charles County Sheriff's Office perform a casket drill during recent honor guard training in La Plata. (Submitted photo)
LA PLATA, Md. (March 13, 2011) — On March 4, twenty-eight Charles County Sheriff's Police and Correctional Officers graduated from Honor Guard training hosted by the Metropolitan Police Department's Honor Guard at the National Guard Armory in La Plata.
After 40 hours of training and tests, the officers are now skilled in performing Honor Guard protocol including drill, flag folding, flag presentation, rifle maneuvers and ceremonial casket movement. They will serve with pride, excellence and dignity at funerals, memorial services, parades and other ceremonial occasions honoring those who have dedicated their lives to public service.
Sheriff Rex Coffey commended the officers who took part in the training. "You can't help but be impressed whenever you see the Honor Guard perform. I'm proud of these officers and their dedication to learning these skills," said Sheriff Coffey.
The graduates said the training was rigorous but an honor worth achieving. "I had a lot of fun during training, despite being on my feet 90 percent of the time. I love learning new things and ways we can improve our Honor Guard. I especially like that we are all on the same page now. I want to thank the instructors for all their help, they had a lot of patience with some of us," said CFC Amber McAlwee. "Learning how to do the steps was easy, the hard part was making it look good. The toughest part was probably mastering casket movements which require the execution of nearly 25 perfectly synchronized steps that must mirror the image of your partners. It takes hours and hours of practice to acquire this skill," said Lt. Jeff Wood.
Captain Mike Rackey, Commander of the Special Operations Division which oversees the Honor Guard, said the training is important. "We wanted to make sure our officers possess the tools, working knowledge and confidence necessary to carry on this time-honored tradition," said Rackey.
Captain Rackey thanked Metropolitan Police Officers Al Johnson, Mikal Ba'th, Scott Mann and Sgt. Kenneth Harvey for their superior instruction. He also recognized Mr. Garyton Echols and his son, David, of Arehart-Echols Funeral Home in La Plata for lending a hearse and casket so trainees could practice ceremonial casket moves, one of the most difficult protocols new Honor Guard members learn. Sgt.'s Ronald Lott and Chad Hagen of the US Army, 253, were commended for their assistance in providing use of the Armory for the training.
The following officers received certificates for completing the training: Lieutenant Stephen Salvas, Lieutenant Jeffrey Wood, Sergeant Benjamin Voorhaar, Sergeant Charles Baker, Sergeant Louis C. Schmidt, Jr., Sergeant Eric Kerth, Corporal Gary Owen, Corporal Jeremy Hebb, Corporal Lee Potter, Corporal Christopher Spaulding, Corporal Matthew Thompson, Pfc. Edward Webster, Pfc. Jonathan Kelly, Pfc. Lewis Payne, Pfc. Christina Walden, Pfc. Daniel Baker, Pfc. Steven Bryant, Pfc. Travis Yates, Pfc. John Riffle, Pfc. Robert Gottschall, Pfc. Aaron St. Germain, Pfc. Rochelle Williams, Cfc. John Arcadipane, Cfc. Evin Flowers, Cfc. Ronald Goldsmith, Cfc. Justin Lloyd, Cfc. Amber McAlwee, Cfc. James Montgomery and Officer Aaron Walhizer (MPD).
Graduates continue to serve in their regular duties which include Patrol Operations, the Special Operations Division, Community Services and Corrections. They will serve on Honor Guard as needed.
Source: Charles County Sheriff's Office