Studies Impact through Eyes of Iraqi, Palestinian, Afghan, and early American Women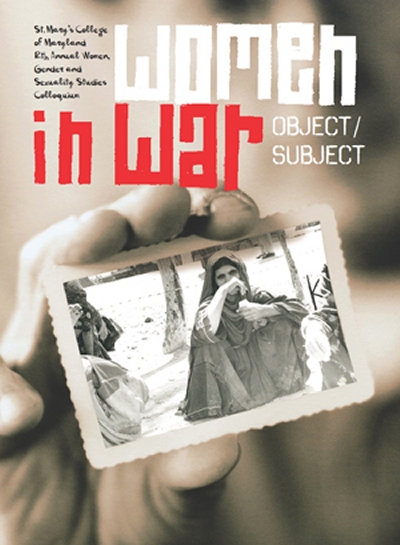 ST. MARY'S CITY, Md. (March 13, 2011) — When we think of how women's lives have been affected by wars in the course of human history, we often think of them as those left behind. Today, however, they fight on the frontlines, are used as weapons, and live as refugees. This year's 12th annual Women, Gender, and Sexuality Studies Colloquium at St. Mary's College of Maryland March 22-24 will focus on women as participants in, victims of, and rationales for war.
"Women in War: Object/Subject" will include a photo exhibit of Iraqi refugees, and presentations on Palestinian women living in Israel and women in early American warfare. Malalai Joya, an Afghan politician who was suspended from the Parliament because of her comments, also will be here. Her book, A Woman Among Warlords, comes out in paperback this March; Time magazine named her in its 2010 list of the 100 most influential people in the world. For more information on the colloquium, go to
www.smcm.edu/wgsx/annual_colloquium/
.
Supported by the Alice McLellan Birney Women Studies Fund, as well as community and college members, the colloquium each spring focuses on a topic critical to the lives of women. It has previously covered subjects as diverse as women in the workforce (2009), marriage in America (2007), and women and technology (2002).
This year's schedule:
"Collateral Image," photographic exhibit
—
March 22 – April 8
. Montgomery Hall Upper Commons. Opening reception at 4 p.m. March 22 in Upper Commons and artist lecture at 8:15 p.m. March 23 in Cole Cinema, Gabriela Bulisova, photographer and photojournalist.
"Gendering the Narratives of Three Generations of Palestinian Women in Israel"
—
4:45 p.m. March 23
, Cole Cinema. Isis Nusair, assistant professor of women's studies and international studies at Denison University.
"Neither Battlefield nor Home Front: The Liminality of Women in Early American Warfare, Real and Imagined"
—
4:15 p.m. March 24
, Cole Cinema. Andrea Robertson Cremer, assistant professor of history, Macalester College.
"A Woman Among Warlords: The Extraordinary Story of an Afghan Who Dared to Raise Her Voice"
—
8:15 p.m., March 24
, Cole Cinema. Malalai Joya, Afghan politician, teacher, and author. Reception and book signing to follow—Aldom Lounge, Campus Center.