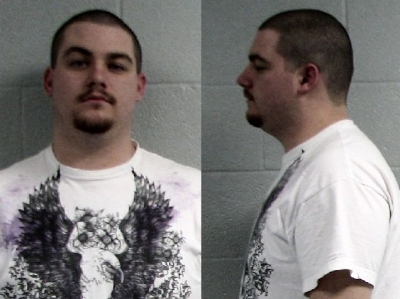 William Knott, age 21, of Sunderland, was arrested on March 5 and charged with possession and distribution of child pornography. (Arrest photos)
PRINCE FREDERICK, Md. (March 13, 2011) — Police in Calvert County have arrested a Sunderland man and charged him with 1 count of distribution of child pornography and 30 counts of possession of child pornography. William Knott, age 21, was arrested on Saturday, March 5 by deputies from the Calvert County Sheriff's Office warrant unit.
Police executed a search and seizure warrant on Knott's Sunderland home on Thursday, February 10. Police say they found and seized a "large quantity of child sex abuse photos and videos."
The warrant was obtained as the result of undercover investigations by the Calvert Investigative Team for individuals possessing, selling or distributing child pornography, according to Steven R. Jones, Commander, Criminal Investigative Bureau. CIT is comprised of detectives from the sheriff's office and the Prince Frederick Barrack of the Maryland State Police.
If convicted, Knott could receive 10 years in prison, or a $25,000 fine, or both on the distribution charge and 1 year in prison for each charge, or a $2,500 fine, or both, on the 30 counts of possession.
Police say further charges are forthcoming.