Will Honor Science Fair Winners, Address Museum Celebration of Naval Aviation's 100th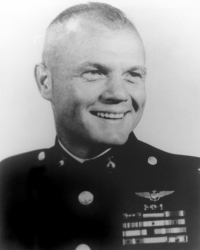 John Glenn in his earlier days as a military aviator. Photo: USMC History Division.
LEXINGTON PARK, Md. (March 10, 2011) — Former Astronaut and U.S. Senator John Glenn will be the speaker April 13 at the Patuxent River Naval Air Museum Association (PRNAMA) fundraiser, "An Evening with John Glenn." Earlier that day, winners in the St. Mary's County Science Fair, which was held Feb. 5, will be honored at the museum.
The first event will focus on the importance of STEM (Science, Technology, Engineering and Mathematics) programs in education. Science projects from all levels from the fair — elementary, middle and high school — will be on display at the museum. As Sen. Glenn has stated, "The most important thing we can do is to inspire young minds and to advance the kind of science, math and technology education that will help youngsters take us to the next phase of space travel."
The formal program will start at 4 p.m. with brief remarks from Sen. Glenn. After those remarks, he will present certificates to each of the participants. The program will conclude at 5 p.m. This event is free and open to the public.
The fundraiser, which celebrates the 100th Anniversary of Naval Aviation, will be 6-9 p.m. at the River's Edge Catering and Conference Center, on the Patuxent River Naval Air Station. Tickets are $100 per person, and the event benefits the PRNAMA's Capital Campaign Phase II. For more information, call 301-863-1900. For invitation information, visit
paxmuseum.com/events/an-evening-with-john-glenn.