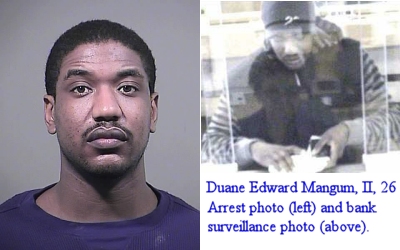 LA PLATA, Md. (March 9, 2011) — One has to wonder why criminals continue to rob banks in southern Maryland when they always get caught, sooner if not later. In a case of later, Charles County Sheriff's Officers assigned to the Warrant Unit have arrested Duane Edward Mangum, II, 26, in connection with the January 27 robbery of the M&T Bank on High Street in Waldorf.
During the robbery, police say Mangum entered the bank, passed a note to the teller, announced a robbery and demanded money. The teller complied and Mangum fled.
Detectives and forensic examiners responded to the scene and recovered evidence which was entered into a database. At that point, investigators did not know who the suspect was.
In February, Mangum was arrested in Prince George's County on an unrelated charge. Evidence recovered in the arrest subsequently linked Mangum to the bank robbery and a warrant was issued on February 18. Mangum was located by the Warrant Unit on March 3 at a house in Waldorf. He was arrested without incident and charged with robbery and theft.