By LAURA E. LEE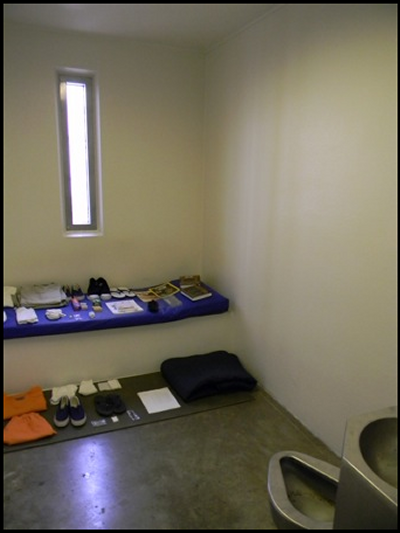 A sample prison cell in Camp Five displays the personal items detainees are permitted to own. Prisoners may spend up to 22 hours per day in the 92-square-foot cells. (Photo: Laura Lee)
GUANTANAMO BAY, Cuba (March 8, 2011) — Time in a prison here is much like any other in America — long, monotonous days behind razor wire and concrete walls — with one key difference: An inmate on American soil knows when imprisonment will end.
For all but a handful of the remaining 170-some inmates at Guantanamo — at its peak, the prison held as many as 650 detainees — confinement has no certain end.
This uncertainty is now a way of life for former Baltimore resident and Guantanamo Bay detainee Majid Khan. Saturday marks his eighth year in captivity. Unlike six other detainees who have been sentenced, the legal resident of the United States has never been charged. President George W. Bush identified Khan as a high-value detainee, but no specific charges have been made public.
Khan has lived in Guantanamo's "Camp Seven" prison since 2006, after he was held in secret CIA camps for three and a half years. The exact location of Camp Seven is not disclosed and media has never been permitted to see it.
However, Capital News Service and more than a dozen other media outlets were permitted to tour Camps Five and Six at Guantanamo Naval Station as part of a week-long military commission trial trip.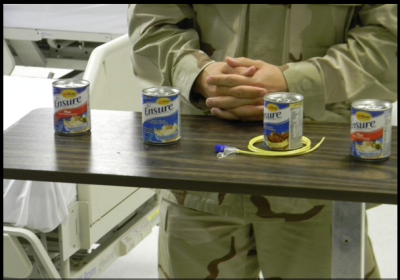 Military medical personnel explain the process of force-feeding the dietary supplement Ensure to prisoners on hunger strikes. (Photo: Laura Lee)
Media participants were allowed to take pictures or video in the camps, but they could not include the faces of detainees or guard forces — a difficult task because swarms of guards were everywhere. All images were reviewed daily by military public affairs staff and any that they deemed in violation of operational security policies were subject to deletion. Written articles were not subject to military review, but there were limits on what information could be reported from the trial.
The prisons house around 170 detainees. The military declined to give an exact number "for security reasons." Most detainees live in Camp Six, an institution hidden behind tall, barbed-wire fences. The industrial concrete facade looks out of place on an island where lush green hills give way to breathtaking coastline.
In Camp Six, detainees may spend up to 20 hours a day outside their cells. They have access to a refrigerator, microwave and pantry, said Navy Cmdr. John Rhodes, military guide for the media tour.
Detainees may read books, newspapers or magazines from the prison library, staffed by a full-time librarian, according to the military's public affairs unit.
The news isn't the most current. The detainees refer to USA Today as USA Last Week, Rhodes said, because of shipping delays. And images of the female form are obscured in the newspapers at the request of some detainees in accordance with their Islamic beliefs.
The cellblocks are triangular, two-story rooms with cells lining the perimeter. Shackles can be seen on the floor beneath long metal tables that fill the center of the block. One block has been converted into a classroom where the inmates can learn art or English.
The block is dark. Even the large skylights in the ceiling admit little light. Detainee silhouettes are barely visible from outside the glass pane separating the press from the guard on duty. The guard is separated from the detainees by a chain-link fence.
On the fence hang several handwritten signs. Most are in Arabic but a few in English read, "What is our legal status?"; "How long you detaine (sic) us without any charge?" and "End our tragedy."
That dissatisfaction with their conditions has led some detainees to engage in hunger strikes. When inmates refuse food, they are force-fed the dietary supplement Ensure.
A military doctor describes the process in great detail, noting the flavor of choice is strawberry, a change from the once-popular butter pecan. The doctor notes that the staff uses olive oil instead of lubricant to push the tubes down the detainees' throats.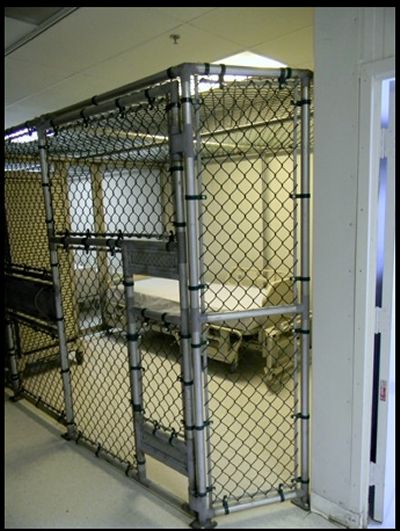 The prisoner medical facility features an intensive care unit with individual beds in separate cages. (Photo: Laura Lee)
The detainees meander around the center of the cellblock — picking things up from a table and putting them down — not the jovial recreation scene the military escort described earlier.
Most are clad in tan and white uniforms. Detainees "on discipline" wear orange jumpsuits, emblematic of the Guantanamo prison system. Less than 1 percent of detainees are on discipline, the escort says. He makes no mention of what constitutes a violation other than to say a disciplined detainee was non-compliant.
The military launders the uniforms, however some detainees opt to do their own laundry — a phenomenon the guard attributes to the saying "busy hands are happy hands." Or maybe, he said, they do their own laundry to assure that they have the same shirt or pants that they wore before.
Just outside the cellblocks, on the other side of a covered fence, detainees shout to one another in a soccer game. The men are "some of the best soccer players you've ever seen," Rhodes said.
When they are not playing soccer, he said, they have many other entertainment options including television, movies and video games.
Residents of Camp Five, the maximum-security facility, do not enjoy the same privileges. The detainees housed there can spend up to 22 hours a day alone in their 92-square-foot cells. The six convicted prisoners reside there.
Sentenced so far have been:
— Australian David Hicks pleaded guilty to one count of providing material support for terrorism in 2007. He was sentenced to seven years with all but nine months suspended under a plea agreement.
— Yemeni Salim Ahmed Hamdan, Osama Bin Laden's driver, was convicted of conspiracy and providing material support to terrorism in 2008. A commission sentenced him to five-and-a-half years with credit for time already served.
— Ali Hamza Ahmad Suliman al-Bahlul, Osama Bin Laden's alleged media secretary, was sentenced to life in prison by a military commission in 2008 for his role in al Qaeda operations.
— Omar Khadr, a Canadian, pleaded guilty to multiple charges including involvement in the killing of a U.S. Army sergeant in Afghanistan. He was sentenced to 40 years but will serve eight years under a plea agreement.
— Sudanese citizen Ibrahim Ahmed Mahmoud al-Qosi, an alleged driver and guard for Osama Bin Laden, was convicted and sentenced to 14 years but may serve less time under a plea arrangement.
— Noor Uthman Mohammed, of Sudan, a terrorist trainer whose trial the media was invited to see, was sentenced to 14 years but will serve only 34 months under his plea agreement.
As for Majid Khan, the detainee from Baltimore, neither the military nor his defense attorneys may release any information about the case.
Khan is being represented by the Center for Constitutional Rights, which filed a habeus corpus claim on Khan's behalf in 2006. The case is still continued in D.C. District Court, his center lawyer Wells Dixon said.
Khan is a 1999 graduate of Owings Mills High School and much of his family remains in the Maryland area. He was working for the Maryland Department of Planning when he returned to Pakistan in 2003 to visit his wife. It was then that he was hooded, bound, and imprisoned by Pakistani authorities, the documents in the habeas petition state.
Although President Obama called for the prison's closing more than two years ago, there is no definite date set.