Performances Set for April 14-16, 21-23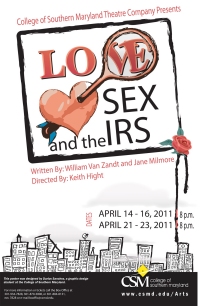 LA PLATA, Md. (March 1, 2011) — The College of Southern Maryland's Theatre Company presents its cast for the spring production of Billy Van Zandt and Jane Milmore's, "Love, Sex and the IRS," a farce complete with twists of fate, sight gags, mistaken identities and hilarious comic lines.
Jon Trachtman and Leslie Arthur are out-of-work musicians who room together in New York City. To save money, Jon has been filing tax returns listing the pair as married. The day of reckoning comes when the Internal Revenue Service informs the "couple" they're going to be investigated by Mr. Spinner. Leslie masquerades as a housewife, aided by Jon's fiancee, Kate. Complicating matters further, Leslie and Kate are having an affair behind Jon's back, Jon's mother drops in unexpectedly to meet her son's fiancee, and Leslie's ex-girlfriend shows up demanding to know why Leslie has changed and won't see her anymore.
CSM's cast includes Jon Trachtman played by Rusty Hrabe of Waldorf, Leslie Arthur played by Alex LaClair of La Plata, Floyd Spinner, the IRS investigator played by Kenneth Waters Jr. of Waldorf, Kate Dennis played by Devie Pettie of Mechanicsville, Jon's mother Vivian Trachtman played by Deidre Locklear of Waldorf, Mr. Jansen played by Michael Razzi of Lexington Park, Connie played by Angela Johnson of Waldorf and Arnold Grunion played by Joshua Rawlings of Waldorf.
Performances take place during tax time, April 14-16 and April 21-23 at 8 p.m. Tickets are $15 for adults and $12 for youth/seniors. CSM staff and students may contact the Box Office prior to the day of performance for advance purchase discount. For information contact bxoffc@csmd.edu, 301-934-7828, or
www.csmd.edu/arts/
.