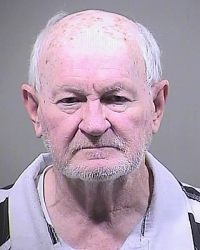 Samuel Ceveris Glass, Jr., 73, of Waldorf, was arrested and charged in connection with multiple sexual child abuse charges stemming from incidents that date back to the 1970's. (Arrest photo)
CALIFORNIA, Md. (March 1, 2011) — A 73-year-old Waldorf man has been arrested and charged with multiple counts of sexual child abuse stemming from incidents that date back to the 1970's and continued for decades afterwards. Samuel Ceveris Glass, Jr., was arrested on February 15 by detectives with the Charles County Sheriff's Office, Criminal Investigations Division.
Police say they first received word of the alleged abuses in January 2011.
To date, three victims have come forward; they were adolescents at the time the alleged abuse occurred. All three knew Glass personally, according to police.
Detectives say Glass lived in the same house on Doris Drive for nearly 40 years and that many teens often visited his home during the time the abuse occurred. Investigators say they are concerned there may be other victims and are asking anyone who may have had inappropriate contact with Glass to call Detective Schwab at (301) 609-6474 or e-mail him at schwaba@ccso.us. Anyone wishing to remain anonymous can call the Charles County Crime Solvers at 1-866-411-TIPS to relay their information.
Glass was charged with multiple counts of rape, sexual child abuse and assault and is currently being detained at the Charles County Detention Center with a $50,000 bond. The investigation is continuing.