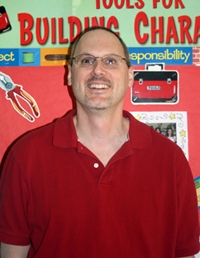 LA PLATA, Md. (February 25, 2011) — Daniel Meltsner, a computer technology teacher at John Hanson Middle School, was recently named Charles County's Outstanding Educator Using Technology by the Maryland Society for Educational Technology (MSET).
The award recognizes outstanding prekindergarten through grade 12 teachers who have made an exemplary contribution to instructional computing practices through the use of technology in classroom lessons in a Maryland School. Meltsner was nominated for the award by Brenda Richards, a gifted education teacher at Hanson, on behalf of school staff. He was nominated for his dedication to implementing and advancing technology to improve student learning, and for serving as an integral countywide technology trainer.
"Mr. Meltsner has been a role model for the routine, purposeful and effective use of technology by being available to support what teachers are doing in their classrooms. Teachers feel free to call or visit his classroom to discuss topics they are working on in class and to seek advice on how technology could enhance their lessons and student learning," Richards wrote in a nomination letter.
Meltsner uses several computer software programs to enrich student learning in technology, such as the Microsoft Office suite, Movie Maker and Photo Story. He monitors lesson plans for other classroom teachers to ensure that his lessons incorporate content from other subject areas. For example, Meltsner uses Google Earth to enhance social studies curriculum and Google Sketch Up for engineering lessons. He also works with students in Power Point on history and science fair projects, as well as Word to support student research and writing.
He said he is honored to receive an award for something he loves to do. "I would like to thank Ms. Deborah Hile and the staff at John Hanson for nominating me as their technology teacher of the year. My years as a computer technology teacher and now Gateway to Technology teacher have given me opportunities to expand learning in many different ways that support students in many classes. I have also enjoyed working with teachers within the county teaching new and innovative programs that enable them to motivate, differentiate and inspire students on a daily basis," Meltsner said.
One of Meltsner's recent innovative lessons involved his sixth-grade students and the creation of talking books for students at J.P. Ryon Elementary School. Students worked in groups to add pictures, background colors, write text and create hyperlinks with recorded audio. Each book also included action buttons that allowed for the reader to turn pages forwards and backwards. The books were given to Hanson's Future Educators Association (FEA), who shared them with Ryon students.
Meltsner also secured additional computer software and hardware to provide students with an additional computer lab at Hanson. Through the Federal Computers for Learning Project, Meltsner has applied for laptops, desktop computers and other software to support the school's technology needs. "Hanson has been very fortunate to have a teacher who has made himself available to locate, collect and increase technology capabilities for staff, students and parents. In addition, he has also acquired hardware for other schools to support their technology needs," Richards wrote in a nomination letter.
The Gateway to Technology program at Hanson was also expanded this school year to students in seventh grade and Meltsner completed the necessary training to become eligible to teach the course. He used Robo Pro and Fischer Technics Parts, which are similar to Legos, in his lessons with students to design and create robotic systems. Students also use Autodesk/Inventor to use a three dimensional program to design parts and explore aspects of engineering.
In addition to teaching computer skills and technology courses, Meltsner is also the Mathematics, Engineering and Science Achievement (MESA) coach and has assisted with several Summer Academy programs. He also teaches courses in Photo Story, Movie Maker and Microsoft Access for system staff for professional development courses.
Visit
https://www.msetonline.org/
for more information on MSET.
Source: Charles County Public Schools