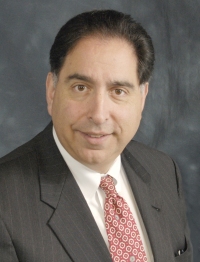 Dr. Stephen T. Michaels is the new Vice President of Medical Affairs (VPMA) at St. Mary's Hospital in Leonardtown. (Submitted photo)
LEONARDTOWN, Md. (February 25, 2011) — St. Mary's Hospital announced the appointment of Dr. Stephen T. Michaels as the Vice President, Medical Affairs (VPMA), a new administrative position at the hospital.
Dr. Michaels came to St. Mary's from Washington Adventist Hospital in Takoma Park, Md., where he had a strong history of accomplishments as medical staff president, including initiating and facilitating improvements in hospital core measures, performance improvement and safety initiatives, and revising credentialing criteria, among others. His background includes leadership of administrative, regulatory and review committees, as well as community advisory panels on health care.
Dr. Michaels was attracted to the VPMA position because of St. Mary's reputation for quality care and achievement in earning consecutive Delmarva Awards. "This directly reflects on the outstanding performance and dedication of the medical staff, employees and leadership team; and demonstrates a real commitment to improving the health of people in Southern Maryland," said St. Mary's newest administrator.
An orthopedic surgeon with a subspecialty in spine surgery, Dr. Michaels has been a managing partner in a private practice in Silver Spring, Md., since 1992. In addition, he serves as the president of STM Medical Consulting, a company that provides independent peer review services to hospital staffs nationwide. His medical degree is from the Georgetown University School of Medicine. Dr. Michaels did his residency in orthopedic surgery with the Stony Brook University Medical Center in Stony Brook, N.Y., and his fellowship with Rush Presbyterian St. Luke's Medical Center in Chicago, Ill. He is a published researcher, board certified in orthopedic surgery and a member of the American Academy of Orthopedic Surgeons, among other professional organizations.
"I look forward to this new phase in my career," said Dr. Michaels. "I am excited by the opportunity to work with highly talented individuals to continue to expand St. Mary's Hospital as one of the area's leading patient care facilities," he said.
Source: St. Mary's Hospital