By NSWC Dahlgren Division Corporate Communications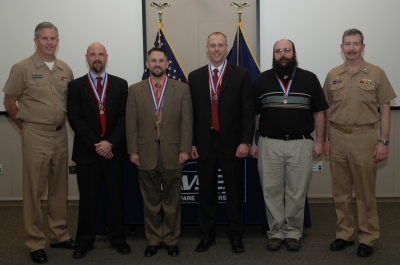 From Left to Right: Rear Admiral James Shannon, Commander, NSWC, Shane Sisemore, Tim Berry, Ross Stadsklev, Peter Paquette, Captain Michael H. Smith, Commander NSWCDD (Not present were Charles Bakker and Daniel Fredrikson) (Photo: NWSCDD)
DAHLGREN, Va. (February 23, 2011) — Six NSWC Dahlgren Division employees received the Secretary of Defense Medal for the Global War on Terrorism (GWOT) at a ceremony on 15 February. Awardees are Ross Stadsklev, Charles J. Bakker, Timothy Berry, Peter Paquette, and Daniel Sisemore, all of the Asymmetric Defense Systems Department.
Daniel Fredrikson of the Engagement Systems Department, who is currently supporting troops in theater, also received the GWOT award.
The Secretary of Defense Medal for the Global War on Terrorism (GWOT) was created to recognize and honor the contributions and accomplishments of our civilian workforce in direct support of members of the armed forces engaged in operations to combat terrorism. The medal is the civilian equivalent of the GWOT Expeditionary Medal awarded to our military members. Award of the medal acknowledges the essential service of the Department's civilian workforce supporting and maintaining the security of our nation.
Presenting the awards was Rear Admiral Shannon, Commander, Naval Surface Warfare Center. "It's an honor to recognize our scientists and engineers at Dahlgren who have volunteered to go into harm's way and provide direct technical support to our warfighters in theater," said Shannon, "Their contributions to our nation are immeasurable."
The awardees served as representatives to the Office of the Secretary of Defense and the Naval Surface Warfare Center, Dahlgren Division (NSWCDD).
Stadsklev was recognized for his service as a Field Support Representative (FSR) while deployed to Afghanistan in support of Operation Enduring Freedom (OEF). Bakker, Berry and Sisemore also serve as FSRs. Stadsklev was commended for going "above and beyond to ensure that the program was both technically and operationally successful."
Bakker was honored for systems integration work supporting "unique asymmetric technologies recognized as being directly responsible for significant numbers of U.S. lives saved on the battlefield."
Berry was commended for "training the warfighter on special technologies and providing troubleshooting and testing support to ensure functionality."
Sisemore was the first FSR to support the program and was commended for his work to establish the roles and responsibilities of follow-on field support representatives. Sizemore was cited as being "instrumental in ensuring that all of the special technical products were thoroughly tested and ready for operation."
Paquette was commended for providing outstanding support as a Delivery Assurance Representative (DAR) while deployed to Afghanistan. Paquette was recognized for "contractual oversight and surveillance of multiple programs that develop partner-nation capability."
Captain Michael Smith, Commander Naval Surface Warfare Center, in his welcoming remarks, reminded those present that "our Navy military can expect an assignment in theater, but our Navy civilians probably did not realize that their jobs might take them to Afghanistan." "Today's honorees," Smith continued, "recognized the importance of involving warfighters and obtaining their operational perspective, and were willing to step out of the safe labs into harm's way."