Men were fishing in Ches. Bay near Calvert Cliffs Nuclear Power Plant
By David Noss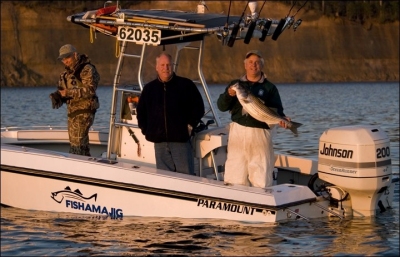 A file photo of Captain Dennis Fleming (far right holding fish) and his boat. The two other men are friends.
CALIFORNIA, Md. (February 10, 2011) - Captain Dennis Fleming, a local sport fishing businessman who operates out of Solomons, this morning pulled three men from the frigid waters of the Chesapeake Bay after their boat capsized in heavy waves near the Calvert Cliffs Nuclear Power Plant. Both boats were in the area for separate fishing excursions. Capt. Fleming was assisted in the rescue by Grady Terry Warhurst, 64, of Upper Marlboro, a second angler onboard his boat.
Fleming reports that not long after arriving at the "RIPS" off the coast near the power plant around 8:00 a.m., he spotted the 21-foot center console boat full of recreational anglers listing badly. Seconds later he saw the boat overturn after a four to five foot wave came over the stern.
View Larger Map
A boat can been seen fishing near the turbulent waters commonly referred to as the "RIPS" in this Google Maps satellite photo. A
static photo is here
.
Fleming explained that the RIPS refers to the area where the power plant discharges warm water into the bay. The discharged water is several degrees warmer than today's water temperature of 35-36 degrees Fahrenheit, and that attracts fish. The water also discharges with sufficient force to create significant waves in the area. The water discharging from the northwest, coupled with this morning's strong winds from the northeast caused "standing waves" which Fleming says were responsible for the capsizing.
Fleming's first reaction was to contact the U.S. Coast Guard via radio and issue a
MAYDAY
. Murphy's Law kicked in as soon as he discovered his GPS was non-functional, preventing him from providing the USCG with the requested coordinates. He instead tells them the emergency is just off the coast near the well known power plant.
With no time to waste, Fleming maneuvers his boat to effect a rescue. Keep in mind that the winds are blowing hard and the water temperature is within 3 to 4 degrees of freezing. "You're only good for about ten minutes in that cold water," noted Fleming.
Capt. Fleming describes the rescue in his own words:
"I arrive at their boat about 15-20 seconds later; all 3 are standing near bow on bow rail that is 3 feet under the water. (Thank God for their high bow rail) They are all wearing the Type III life jackets.
"We throw a life ring, winds blows it off course. I get next to them and now I have the danger of our boat beside theirs and the waves smashing the two boats together, with the men between them; but there is no other way since they are stuck to their boat and not letting go in 38 degree water. Now they transfer over to my boat hanging on to my bow rail. (Inversely - thank God for my low bow rail) With 5 people on one side of my boat, I am now worried of getting caught in the standing waves and flipping.
"I work the guys one at a time from the bow of the boat to the stern where I have a swim ladder with step. Imagine trying to pull 200+ pound full grown men who are in shock, freezing to death, and losing strength. One is panic struck begging us to hold onto them and not let them go. My guest is having a hard time dealing with one guy. I eventually get them in using every bit of strength I have and coaxing them to use whatever they have left. I tell them all that at this point to be thankful - they are alive.
"I radio Coast Guard telling them I have all 3 victims on board, no physical injuries, but I am sure they are hypothermic. All 3 swear they are not. I request medical assistance at Flag Harbor [in St. Leonard]."
The ride back to shore took about ten minutes, the whole time fighting northeast winds of 15-20 m.p.h.
Once docked, "The men walk or crawl down the dock to the ambulance and are taken to Calvert Hospital," wrote Fleming. Fleming reports that there were some minor problems coordinating with the emergency crews regarding the location to which they needed to respond.
The three occupants of the capsized vessel were identified as Kevin Lynn Gladhill, 32, of Boonesboro; Michael George Krall, 35, of Keedysville; and Russell Uger Neff III, 55, of Boonesboro, by the Md. Natural Resources Police on Friday.
Capt. Fleming did not feel his responsibility to the men ended once they were driven off by the ambulance.

"I visited them later, two were OK and one had his core temperature go down 3-4 degrees and was having a much harder time," wrote Fleming.
"The affects of hypothermia were quickly affecting the victims' muscles, speech and their mental awareness. One of the victims could not even remember what happened to him. They wouldn't have made it much longer," concluded NRP Sergeant Shawn Garren.

To learn more about Captain Dennis Fleming, visit his website at fishamajigguideservice.com.


Capt. Fleming offered the following advice to other local boaters based on his lessons learned this morning:

- Monitor Channel 16 - always;

- The RIPS are dangerous in a NE wind;

- The drift they made put the boat sideways in the waves, they took a wave in a boat with a cut out transom. I am not sure where they were standing. The boat also had an auxiliary kicker motor (more weight). Do not get sideways in the waves;

- Have a plan for a man overboard drill - I always tell my people the drill before each trip;

- Have your throw ring tied to a rope. I thought loose would be better but I wish now I had a tether on; and

- You absolutely need a swim ladder - no way were these guys coming in without one.
Updated 11-FEB-2011 1:30 p.m.; incorporated comments from NRP.