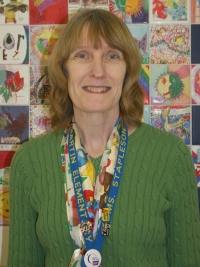 Kathryn Stapleson, gifted education resource teacher at T.C. Martin Elementary School. (Submitted photo)
LA PLATA, Md. (February 9, 2011) — Kathryn Stapleson, a gifted education resource teacher at T.C. Martin Elementary School, was recently named an Outstanding Teacher as Leader in Gifted Education by the Maryland State Department of Education's Maryland Advisory Council on Gifted and Talented Education. The Maryland State Advisory Council on Gifted and Talented Education annually honors educators and parents for their contributions in developing talents of Maryland students from all populations in gifted education.
Stapleson said she was honored when she was notified that she had been nominated and selected for a state award. "I am very honored to receive this award and to represent the gifted education resource teachers in Charles County," she added.
She was nominated for recognition by Mary Seremet, secondary gifted education resource teacher, and Joyce Campbell, elementary gifted education resource teacher, for her expertise in creating lessons for students in different grade levels, for working collaboratively with the reading and math teachers to prepare students for challenging lessons and for her positive rapport with students and staff. In their nomination statement, Seremet and Campbell state that Stapleson is a go-to person for other resource teachers seeking assistance. "Other resource teachers look to Kathryn for her expertise and knowledge of gifted students and programs. She freely shares her experiences and insights to assist her colleagues in resolving issues."
Stapleson is also an active participant in the graduate level gifted education certification program available through North Georgia College and will complete the process later this school year. She also assists in writing gifted education curriculum for elementary reading, math and summer enrichment programs, and leads countywide staff development lessons on differentiation and gifted education. "She can be counted upon to volunteer her expertise whenever there is a system or school need. Kathryn is a fervent advocate of gifted students who recognizes the importance of nurturing students of advanced potential," Seremet and Campbell wrote in their nomination statement.
She will be honored, along with educators from other Maryland counties, at a Feb. 16 reception at the Miller Senate Building in Annapolis. Maryann Bourassa, content specialist in gifted education for Charles County Public Schools, will also be honored at the reception as an Outstanding Educator in Gifted Education – Program Coordinator.
Stapleson began her teaching career in St. Mary's County and was hired to teach at Walter J. Mitchell Elementary School in 1987. She later transferred to Berry Elementary School in 1996 and taught students at different grade levels. She began working as a gifted education resource teacher in 2006. As a gifted education resource teacher, Stapleson has worked with students at Arthur Middleton, Dr. Gustavus Brown, William A. Diggs and T.C. Martin elementary schools.
She holds a bachelor's and master's degree in education from the University of Maryland, College Park.
Source: Charles County Public School System